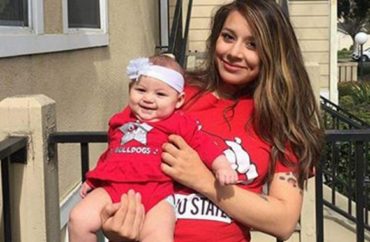 When California State University-Fresno​ student Jessica Riojas stopped by a tabling display set up by a pro-life club at her school, little did she know it would change her life forever.
Riojas picked up a little plastic model of a 12-week old fetus — complete with arms, legs and facial features — and kept it with her, but didn't think too much about it at the time.
It was only later, after she learned she was pregnant, that the model came back to mind. She thought of it as a Planned Parenthood counselor tried to convince her abortion was the best choice.
In the end, she chose life.
"I decided to keep my baby," Riojas told The College Fix, citing Fresno State Students for Life's tabling display as the deciding factor.
"At the event, I was able to see the fetal development display that changed my mind, and I was able to humanize the baby in the womb," she said.
That was in 2017. Today Riojas is the proud mother of 19-month-old baby Eden.
"Prior to being a mom, I had no position about abortion. However, when I found out I was pregnant that was the only option that was being encouraged," she said in an interview this month with The College Fix.
Bernadette Tasy, president and co-founder of the Fresno State Students for Life club, said Riojas' story is just one blessing among many the group has experienced in recent years.
In 2017, the club faced backlash from a professor who erased pro-life messages the club had written on a campus sidewalk. Alliance Defending Freedom took the professor to court on behalf of the club and won.
(Tasy wrote about the experience here.) Tasy told The College Fix that the club has grown since the incident with the professor, despite vandalism and adversity the club has faced.
"Since then our group has grown," she said, noting what a dramatic change it's been.
When the club first started, she said, "we had struggled with low membership, and we had fliers being torn town and defaced, and a professor and his students were erasing what we had permission to do from the university. We were feeling very discouraged."
The challenges the club faced "gave my whole group and I the motivation we needed to make sure that our campus heard our pro-life message," Tasy said.
Tasy said the club saving a baby from being aborted is the first they are aware of, but believe there could be more.
"This is the first that we know of and we know that there could be many other stories like it," she said.
As for Riojas, she said her experience has been difficult but rewarding.
"Being pregnant in college was tough," Riojas told The Fix. "During my first trimester of my pregnancy I experienced severe morning sickness, which led to me dropping out of the semester."
"Thankfully, with the help of my new medical doctor, I was able to come back to school and still be at the same academic standing. I came back to school when I was 7 months pregnant."
It was still a learning process then, she said, as neither she nor her professors knew what the protocol was. She said that seeing a Title IX flier helped her to know what rights she had as a pregnant student. However, despite the difficulties, the school and her professors worked with her and accommodated her needs. The same semester she gave birth to her Eden, she earned a GPA of 4.0.
After the dust settled, Riojas became vice president of the Fresno State Students for Life club.
"I became Vice President of Fresno Students for Life club because of my desire to make a positive change to the Hispanic pregnant parenting student body," Riojas said. "After my experience, I learned so much and would like to share my knowledge and experiences."
She said having a child was a motivation for her.
"Being a parenting mother has been the best motivation in school and my personal life. I finally feel that I have purpose and can achieve anything. Everything I do matters," Riojas said.
Added Tasy: "This proves that parenthood and education are not incompatible."
MORE: Prof who told class to erase pro-life chalking pays $17K to settle suit
IMAGE: Courtesy photo
Like The College Fix on Facebook / Follow us on Twitter