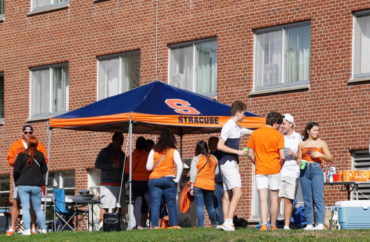 Peers said they were not uncomfortable with tasks like kissing fellow students and licking a campus statue
A Syracuse University student has found her academic career derailed after organizing a fateful scavenger hunt she planned as something fun for her peers to do.
Her case is represented by the Foundation for Individual Rights and Expression, which has called Eriendeep Uppal's situation a violation of her free speech rights.
Every fall, Syracuse University prepares to welcome thousands of freshmen to its campus in central New York, including through the work of its student Orientation Leaders, or OLs.
Uppal, an orientation leader, organized a campus-based scavenger hunt for her fellow OL teammates involving various challenges like kissing teammates on the university's Kissing Bench, barrel-rolling down the Carnegie steps, and licking a statue of Abraham Lincoln.
The activity was entirely optional, and there are no known complaints from students who participated, according to FIRE.
But the fun quickly dissipated after Syracuse administrators charged Uppal with violating its Code of Student Conduct, deeming the scavenger hunt's activities as "demoralizing" hazing and a threat to the mental and physical health of her fellow OLs, according to a disciplinary letter she received Dec. 16.
According to Syracuse's website on anti-hazing policies, the university defines hazing as "action that intentionally or recklessly causes or poses a substantial risk of harm to the mental or physical health or safety of one or more persons."
The Dec. 16 disciplinary letter states that Syracuse's University Conduct Board suspended Uppal until the summer of 2023 for four violations of the private university's student code.
In materials from board hearings, obtained by the Foundation for Individual Rights and Expression, Syracuse's conduct board heard testimony from one of Uppal's fellow orientation leaders who said that "everyone felt safe" at the scavenger hunt and did not find Uppal's behavior or language to be out of line.
Another OL member said she enjoyed the event.
FIRE sent a letter to Syracuse urging it to overturn Uppal's suspension.
"Syracuse's harsh punishment of Uppal … contravenes the university's commitment to protecting students' expressive rights," the Dec. 22 letter stated. "Further, Syracuse presented no evidence that the scavenger hunt violated university policies on hazing or mental harm to others."
Syracuse did not respond to multiple requests for comment from The College Fix. Reached by The College Fix, Uppal declined comment.
Along with the semester-long suspension, Syracuse is requiring Uppal to submit a "petition demonstrating … good citizenship" as part of the return process, along with verification of 45 hours of community service, proof of gainful employment and academic credit, mandatory TED talk watching, and an anti-hazing reflection paper.
"You must submit evidence of academic progress and/or gainful employment during your time away from Syracuse University. You are strongly encouraged to contact your academic advisor to discuss the process for transferring credits into your program at Syracuse University," the letter stated.
MORE: Syracuse students not interested or engaged in mandatory diversity course
IMAGE: Khairil Junos / Shutterstock.jpg
Like The College Fix on Facebook / Follow us on Twitter