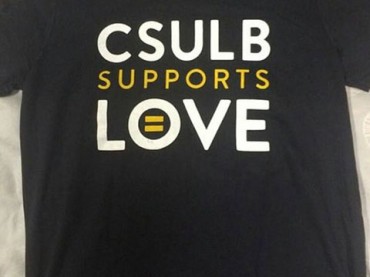 Even if the money runs out, gay students have other scholarship options
The student government at a California State University campus is raising money to keep its "Queer Advocacy Scholarship" going beyond its inaugural year.
But even its top backer isn't sure whether the scholarship will get a sequel.
According to Gazettes, a Long Beach-area newspaper chain, the first $2,000 scholarship will go out this fall to one CSU-Long Beach student. The deadline to apply is April 16.
The scholarship application asks two questions to answer in a personal statement: "How have you overcome adversity based on queer identity?" and "What have you accomplished to create positive changes in the LGBTQI + community?"
The student government is selling T-shirts to raise money for the second year's scholarship. But Logan Vournas, the previous secretary for Lesbian, Gay, Bisexual, Transgender, Intersex and Questioning Affairs, told Gazettes the government must sell at least 250 T-shirts before the funds are due for the next scholarship.
The government has sold 100 shirts so far, Vournas said. The shirts read "CSULB SUPPORTS LOVE," with an equal sign in the "O" in "LOVE."
Vournas could not be reached for comment by The College Fix, nor could the school's Queer and Allies Club, in which Vournas serves as co-president.
It's not clear where the student government got the money for fall 2015's scholarship.
The university itself can't help the student government, according to administration spokesman Michael Uhlenkamp.
He told The College Fix in an email that "the university is not able to contribute general fund dollars to private scholarships."
The university is supportive of scholarships that support the school's diverse population, though, Uhlenkamp said.
"CSULB takes pride in its diverse student population and strives to ensure accessibility to all students" and "the idea of a scholarship that would benefit any of our students is a good one," he said.
School keeps a list of gay students and wants to track them better
Even if the queer advocacy scholarship doesn't continue, CSULB students of the queer persuasion have other options.
The student government, which also serves as a general student advocate group, hosts an LGBT resource center that lists other scholarship opportunities reserved for LGBT students.
One program is specific to Long Beach – though its information page is empty – while another is national and currently offers 28 scholarships sponsored by entities such as HBO and Toyota.
The LGBT resource center also keeps a list of "out" university community members, grouped as alumni, faculty, staff and students.
The university also has a "Committee on Lesbian, Gay, Bisexual, Transgender and Queer Campus Climate" that meets biweekly. The current secretary for LGBTQI Affairs, Shannon Cholakian, could not be reached for comment.
The committee's annual report, released last May, listed "action items" for the 2014-2015 school year that included improving "transgender pride" by offering gender-neutral bathrooms in academic buildings and making it easier for students to change their official first name at the university.
Other action items include creating a "bias response team" and "recruiting and tracking LGBTQ individuals" to improve retention among students, faculty and staff.
CSU-Long Beach is hardly alone among California schools. More than a dozen others – including evangelical Point Loma Nazarene University – offer queer scholarships, according to a database on the Human Rights Campaign's website.
CSU-Fullerton, for example, advertises its student government's LGBT scholarship fund on its LGBT resource page and invites donors to pledge to it.
College Fix reporter Matt Lamb is a student at Loyola University-Chicago.
Like The College Fix on Facebook / Follow us on Twitter
IMAGE: Logan Vournas/Gazettes