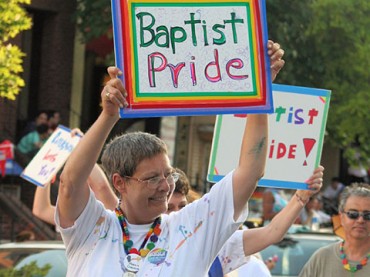 Baptist leader implies criticism is happening behind the scenes
A small Baptist college has chosen its first openly gay president, and no one appears to be making a fuss.
President-elect Thomas Minar will take office at Franklin College on July 1. Minar told the Indianapolis Star that Franklin's choice of a gay president shows its community is "committed to being inclusive and diverse," by ignoring labels.
"Diversity strengthens community and strengthens decision-making. Quickly, gay and lesbian folk are finding more and more environments in which our sexual orientation doesn't have to label us," Minar said.
The Indiana liberal arts school was founded by the Indiana Baptist Convention in 1834 and has a "voluntary association" with the American Baptist Churches USA, a racially and theologically diverse denomination.
Minar has a history in theologically liberal denominations. He taught religion at the Chicago Theological Seminary, affiliated with the United Church of Christ, and is currently head of development at United Methodist-affiliated American University in Washington, D.C.
Franklin didn't mention in its press release that Minar will be the school's first gay president. It noted his husband's position as an academic physician at Northwestern University.
The school doesn't appear to elaborate on its history or relationship with the American Baptists anywhere on its site.
"I deeply respect Franklin's traditional educational values, and I am eager to build on its momentum in the areas of enrollment, alumni engagement and engaged learning," said Minar in the release.
Minar is more interested in talking about his sexuality than his new school is.
He told the Star "there's tremendous talent in the gay and lesbian community, and we've worked hard to make sure LGBT professionals have opportunities for advancement and success by providing support from within our [LGBT] community."
It's not clear that any Baptist leader has publicly criticized Franklin for choosing Minar, though one official implied it was happening.
"It troubles me that some representatives of the church are prepared to intimidate the board of trustees of Franklin College for its decision to call Dr. Minar to this role," Aidsand Wright-Riggins, executive director of American Baptist Home Mission Societies, told Baptist News.
Wright-Riggins said Christians "may be intent on harassing President Minar because of his sexual orientation," without naming any person or group.
Baptist News said Minar's choice had drawn "little attention" in churches affiliated with the American Baptists' Indiana/Kentucky regional organization.
The new president's priorities at Franklin will be improving alumni relations, so as to "maximize outside student opportunity," and figuring out how to improve its "brand," Minar told The Franklin.
The school went through a scandal last fall when it fired a professor of more than four decades following allegations that he "assaulted" a male student, Fox 59 reported. The nature of those allegations was never revealed.
Franklin also obtained a protective order against the professor to keep him off campus and away from the unnamed 19-year-old. It's not clear whether the professor was ever charged.
College Fix reporter Samantha Watkins is a student at Point Loma Nazarene University.
Like The College Fix on Facebook / Follow us on Twitter
IMAGE: zizzybaloobah/Flickr