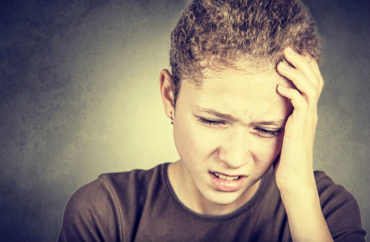 'It's an ideological term – this is not a scientific thing'
Medical professionals who study youth psychology and treat gender-confused youth are sounding the alarm about court rulings that they claim put transgender ideology ahead of "sound science" and the law.
The Alliance Defending Freedom filed a friend-of-the-court brief on their behalf just after Christmas, in a K-12 bathroom case being appealed to the 11th U.S. Circuit Court of Appeals.
By questioning the scientific underpinnings of "gender-affirming" treatment for gender-confused youth, the brief seeks to halt the momentum of LGBT activists who are pressuring public schools to comply with their students' gender-identity requests.
"Gender is an engineered term," Andre Van Mol, a board-certified family physician who signed the brief, told The College Fix in a phone interview.
"Nouns have gender. People have a different sex," said Van Mol, who serves as co-chair of the Committee on Adolescent Sexuality for the American College of Pediatricians. "It's an ideological term – this is not a scientific thing. Gender went from applying to nouns to becoming a substitute for biological sex."
Trying to look like a boy means you're a boy, judge claims
The friend-of-the-court brief, publicized by the alliance last week, comes in response to a July ruling in favor of a transgender student against the St. Johns County School Board in St. Augustine, Florida.
Lambda Legal filed suit on behalf of Drew Adams when the student, who was born female, was denied access to the boys' restroom at Allen D. Nease High School.
U.S. District Judge Timothy Corrigan used male pronouns for Adams throughout the ruling as well as the phrase "sex assigned at birth," a term of art favored by transgender activists that suggests sex is socially constructed.
"Drew Adams says he is a boy and has undergone extensive surgery to conform his body to his gender identity," Corrigan wrote, claiming that "medical science says he is a boy." (A footnote clarifies that Adams still has a vagina.) Adams' birth certificate and driver's license "say he is a male," as does the Florida High School Athletic Association, the judge continued.
Preceding the lawsuit, the school board worked for three years to find a solution that would respect the privacy of all the students. It eventually settled on multiple single-stall, gender-neutral bathrooms placed around the high school to be used by students such as Adams.
Corrigan's ruling said this compromise is still discriminatory toward Adams. The bathroom locations are inconvenient for the student as well as disrespectful, since Adams feels separated from "other boys." As a result, Adams tries to avoid school bathrooms completely.
MORE: 'She went from hating white males to now wanting to become one'
Huge congrats to Drew Adams and @LambdaLegal, who secured a big victory in Florida for #transgender teens: A federal judge ruled that a school district's policy denying restroom access to transgender students violates #TitleIX and the 14th Amendment https://t.co/AW6kheXX67 pic.twitter.com/82bJQVcViS

— FreedomforAllUSA (@freedom4allusa) July 27, 2018
The alliance and the medical experts it represents take issue with Corrigan's conflation of sex and gender identity, alleging the judge made a faulty and unscientific decision.
All the experts who signed the brief are medical doctors. In addition to Van Mol, the brief represents Miriam Grossman, who treated gender-confused students at UCLA's Student Psychological Services for 12 years; Quentin Van Meter, president of the American College of Pediatricians, board-certified pediatric endocrinologist and former Emory University clinical professor; and Michael Laidlaw, a board-certified endocrinologist who contributes to a working group on childhood and adolescent gender dysphoria.
Until very recently, sex referred to a person being objectively male or female, Van Mol told The Fix. Gender, on the other hand, consists of sex stereotypes and a person's inner experiences: Sex is fixed, while gender is subjective.
Corrigan's ruling relies on sex stereotypes to start its case for recognizing Adams as a boy. "From a young age" Adams behaved more like a boy, "playing with toy race cars and dinosaurs, and going to the science center," the judge wrote, and only during puberty did the student become upset by "the developing feminine parts of his body."
Even as the judge admitted "there was no expert testimony about a diagnosis of gender dysphoria for Adams," Corrigan concluded that the transgender student is a boy in part because Adams tries to look like one:
Adams wears his hair short; he dresses like a boy; his voice is deeper than a girl's; his family, peers, classmates and teachers use male pronouns to refer to him; he takes hormones which suppress menstruation and make his body more masculine, including the development of facial hair and typical male muscle development; he has had a double mastectomy so his body looks more like a boy…
While Corrigan claims that "federal courts around the country have recognized the right of transgender students to use the bathroom matching their gender identity," he leans heavily on a single ruling from outside his jurisdiction: the 3rd U.S. Circuit Court of Appeals' ruling in Boyertown, which the plaintiffs claim contradicted a previous 3rd Circuit ruling.
'Scientifically unwarranted, dangerous experiments' ordered by court
The brief comments on whether Judge Corrigan, who was appointed by President George W. Bush, "was authorized to interpret 'sex' to mean 'gender identity' under Title IX and the Equal Protection Clause."
The only relevant question for the court is "what Congress meant when it said 'sex' in 1972 when they enacted" Title IX, the medical experts' lawyer Gary McCaleb told The Fix in a phone interview.
There's no doubt that Congress meant objectively male and female when it said "sex discrimination," he said:
The concept of gender was not even in play at that time as it is today, so the court completely failed to do its job in respect to interpreting sex under Title IX … What the lower court did was it redefined sex by using the term "gender" and really eliminated the law.
The equal protection argument by Adams' lawyers was tangential to the real issue, which is "when you have a biological female wanting to access a male privacy [sic] facility, that person is not in the same situation as the actual males in the facility," McCaleb said.
MORE: Princeton student groups say men can get periods
"That's an argument that shouldn't even get out of the gate" given the clear meaning of "sex" when Title IX was written, he continued. The safety and privacy of every student is at stake, as the school board was right to recognize from the start.
McCaleb said there are four similar cases seeking review from the Supreme Court. "You're having schools align with an agenda which is very poorly supported in science," he said. "It's rather astounding that this political agenda has gone so far when it's resting on such bad science."
The very language of "gender identity" confirms that it's a "psychological process," Van Mol told The Fix. "There's nothing about a person's gender identity that changes anything about biological sex, and that needs to be understood."
There's similarly no medical or scientific evidence proving that "gender-affirming" policies and treatments for gender-confused students are beneficial to those students, he said. The brief says the ruling forces the school board to adopt "scientifically unwarranted, dangerous experiments" on their students.
"Why are we affirming?" Van Mol (below) asked. "Why are we forcing this on society as a whole? There's better things to offer these kids."
While everyone should be treated with respect and civility, "we can do that without this overarching gender affirmation pathway and legislation being forced on everybody," he said.
'All the underlying psychological problems will remain there'
Gender affirmation can even be more harmful than helpful by interfering with psychological development, according to Van Mol. He cited medical literature from the American Psychiatric Association and studies from Europe and North America that show gender dysphoria in youth tends to go away on its own.
"We're talking upwards of 80 to 98 percent of the time," he said, apparently referring to an American College of Pediatricians "position statement" that cites the fifth edition of the Diagnostic and Statistical Manual of Mental Disorders.
It's not standard medical and psychological practice to encourage youth to deny reality, no matter how strongly they feel something, Van Mol said, using anorexia as an example:
When a person has a belief about their biology that's contrary to fact, the last thing we do is try to reinforce their self-perception. We do anything we can to help the person develop a body image more in line with physical reality. In the case of gender dysphoria, if we are going to affirm the person in that dysphoria, in that self-perception, that goes somewhere – it doesn't just stay in the school. All the underlying psychological problems will remain there. Hormones don't fix it, surgery doesn't fix it.
Van Mol referenced a 2011 study out of Sweden, quoted in the brief, that followed the full process of reassignment in gender-dysphoric individuals. It found they had a suicide rate 19 times greater than the general population.
On top of that, children with gender dysphoria become permanently medicalized with all the complications that will follow from hormone therapy and surgery, said Van Mol. "It's not benign, it's not harm-free … The risks of counseling therapy, helping the person be more comfortable with their biological sex, we contend is superior," meaning less risky.
While Judge Corrigan is well-intentioned, the advocates for Adams are using "emotional blackmail" with the "flatly false statement" that "either one affirms a gender-dysphoric child in their ideation or one is encouraging suicide," Van Mol said.
MORE: 'We're not psychological hermaphrodites at birth'
IMAGE: CebotariN/Shutterstock
Like The College Fix on Facebook / Follow us on Twitter