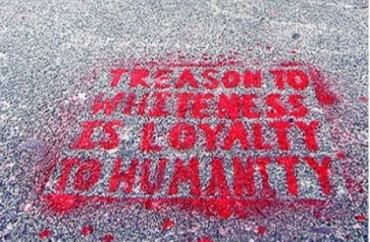 An English professor and gender studies program coordinator at Linfield College has come up with a list of fifteen "troubles" to help recognize "(un)conscious contributions to white supremacy."
Reshmi Dutt-Ballerstadt says that "for faculty of color, women and particularly those scholars who are outspoken about dismantling the master narratives of white supremacy within our colleges and universities, playing by the rules is neither an option nor an obligation."
In fact, she says, it's "a terrible burden."
The professor writes in Inside Higher Ed that this "oppressive system" of white supremacy merely treats what she dubs "postcolonial scholars" as "mere bodies representing 'diversity.'"
As such, to assist in its defeat, Dutt-Ballerstadt created a checklist of "qualities and attributes of those that overtly or covertly support or contribute to a culture of mundane and everyday" aspects of white supremacy in colleges and elsewhere.
Regular readers of The Fix will find most/all of them (mind-numbingly) familiar.
–You work in a position of power in a predominantly white institution, and while you claim to be working for social justice, you do nothing to change the white supremacist power structures within your departments, committees and institutional decision-making process.

–When your colleagues who are marginalized complain to you about their "oppressive" work conditions, you think that they are difficult.

–When your colleagues and students claim that they experienced microaggressions, your response is "I am so sorry. This is unbelievable!"

–When you are asked to nominate your students and faculty colleagues for awards or leadership positions, your first instinct is to nominate those that are "stellar" (mostly men) and obviously "white." It doesn't occur to you that you are implicitly supporting a logic of meritocracy that is built on this racist assumption that everyone has had the same access and opportunities.

–When it comes to understanding your own white privilege, you get very angry if a faculty member of color points out to you where and how your privilege is operating. You deem such critiques as "uncivil" and as not supporting a collegial environment.

–You are aware of the many wrongs that you see your institution is doing to your marginal faculty and students, and while you sympathize with people of color and marginal students and faculty members behind your closed door, you never openly confront your institution.
The remainder of the list is just as, er, good, and if you do manage to make it through the whole thing, Dutt-Ballerstadt says that you've probably decided to have "some hot chamomile tea from a cup that reads 'White Tears' or 'Black Lives Matter.'"
Chamomile tea? Sounds rather gentrifying.
MORE: OK to vandalize fraternities because patriarchy, white supremacy
MORE: Robert E. Lee's horse 'Traveler' = white supremacy
IMAGE: Josh Parrish/Flickr
Like The College Fix on Facebook / Follow us on Twitter