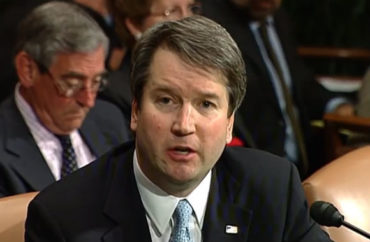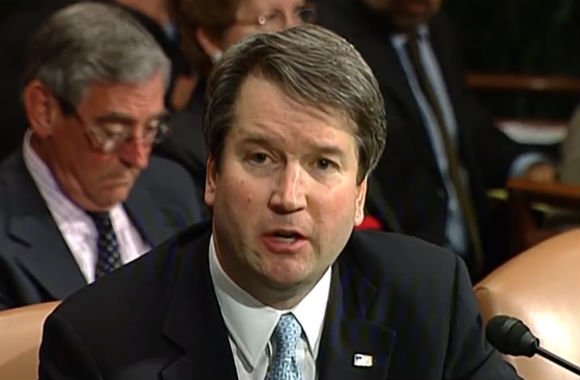 Wife of Democrat senator who opposed Kavanaugh confirmation to take helm at GMU 
U.S. Supreme Court Justice Brett Kavanaugh is slated today to wrap up his two-week summer course called "Creation of the Constitution," which he co-taught in England, where the Magna Carta was sealed, as a distinguished visiting law professor for George Mason University.
The class was so well received among those at Antonin Scalia Law School that it had been completely filled, with a long waiting list of students who had tried to enroll.
But as the justice completed his course, some 3,500 miles away in Virginia, many students took to Twitter this week to express fury over his guest position, still enraged he was hired at all.
The complaints came by way of Twitter under the hashtag #ThankYouCabrera, which trended among the George Mason University community as campus brass attempted to bid a fond farewell to outgoing President Ángel Cabrera, who is leaving the Fairfax institution to take the helm as president of the Georgia Institute of Technology.
"Before we send off @CabreraAngel and @bethcabrera, share your memories on Twitter & Instagram using the hashtag #ThankYouCabrera," the official George Mason University account tweeted July 24.
Following that, the hashtag was largely overrun by those who wanted to vent over Cabrera's tenure, and most of the criticism appeared aimed at the Kavanaugh hire.

Many on Twitter repeatedly used the term "rapist" to describe Kavanaugh although the claims by Christine Blasey Ford have been widely discredited and the U.S. Senate confirmed him to the Supreme Court.
Among the tweets:
#thankyoucabrera for hiring a rapist and telling the entire student body that he's qualified to teach at a university that's already got a ton of sexual assaults going on

You hired a rapist and made me ashamed to have a degree from GMU. #ThankYouCabrera

@CabreraAngel thanks for creating an exclusionary, seedy university administration, hiring a sexual predator, and when the students finally pushed back cutting and running. Best of luck to GT surviving you! #ThankYouCabrera

Remember when @CabreraAngel's administration refused to take action against a professor who had been sexually predatory for decades, and then let him retire rather than face termination or any form of administrative consequences? #ThankYouCabrera

#ThankYouCabrera for sending millions of emails about solidarity and support for sexual assault survivors and then immediately hiring Brett Kavanaugh 🙂

Ohhhh can't forget to say #THANKYOUCABRERA for not caring at all when the law school hired kavaNOPE as a professor, despite the protests of thousands of students who would be retraumatized having a known sexual assaulted on staff.
Although several tweets under the hashtag were positive, other complaints against Cabrera included tuition hikes and the university's acceptance of Koch financial support.*
As to whether Cabrera's departure could have any impact on Kavanaugh's three-year guest professorship contract, that appears unlikely for now.
Tom Davis, GMU's rector of the Board of Visitors, told The College Fix that "there will be no change" when questioned on whether Justice Kavanaugh's teaching gig would be reconsidered by interim incoming President Anne Holton.
"We are pleased to have the judge teaching here," Davis said.
In April, Cabrera had stood up to student protesters and professors calling for a new, campus-based probe into the allegations against Kavanaugh. But Holton is wife to U.S. senator and former 2016 Hillary Clinton vice presidential candidate Tim Kaine, a Virginia Democrat, who was an outspoken advocate against the confirmation of Justice Kavanaugh and voted no on his confirmation before the U.S. Senate.
Kaine said at the time: "I am deeply disappointed that the Senate has rushed to confirm Judge Kavanaugh without a complete investigation into the serious allegations against him. A five day investigation that featured interviews with a handful of people, while ignoring dozens of witnesses who were willing to cooperate, and a secret report whose contents could not even be discussed with the public convinces many that the entire goal was to ignore the serious charges."
GMU spokesman Micheal Sandler told The Fix "I am not aware of any plans to reconsider his contract."
But some student groups have been active in their effort to oust Kavanaugh and may try again under a more sympathetic ear in Holton this fall. At least one group, Mason for Survivors GMU, continues to tout #CancelKavanaugh on its Twitter page. The College Fix has reached out to Mason for Survivors for comment, but the requests haven't been returned.
The College Fix reached Supreme Court Justice Brett Kavanaugh's office for comment; Kavanaugh declined to comment via email through a Supreme Court aide.
MORE: GMU faculty want new probe of Kavanaugh: 'there has not been a full investigation'
IMAGE: YouTube screenshot
Like The College Fix on Facebook / Follow us on Twitter