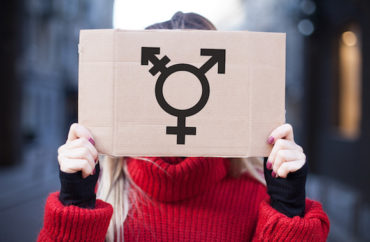 George Mason University has become the latest campus to enact a LGBTQ-friendly pronoun policy that asks professors to use others' preferred names and genders in correspondence.
It joins some 250-plus colleges nationwide that have implemented similar policies, according to CampusPride.org.
George Mason University made the move last month, launching the new policy called the "Chosen Name and Pronouns Policy."
In an email sent to staff members campus officials said it was adopted because "Mason supports and recognizes that an inclusive and welcoming community is key to building a sense of belonging and well-being."
The "Chosen Name and Pronouns Policy" allows both faculty and students of the university to designate their preferred first name and pronouns. Their chosen name and pronouns will be put into all of the university's information systems, including class rosters, online class portals, and directory listings. The university states it will "use a Chosen Name and Pronouns in university communications and reporting except when the use of a Legal Name is required by the University or by law."
In general these policies are designed to allow transgender or gender non-conforming students to be able to be called by the name and pronoun they prefer to eliminate awkward conversations or hurt feelings, according to proponents.
"Just having the option to do that makes me feel like I can exist here," one student from the University of Vermont told NPR.
When asked for a comment on this new policy, George Mason University's communications department did not respond to multiple requests from The College Fix. 
Though this policy is new to George Mason University, similar policies have been created and implemented on other campuses throughout the country over the past few years.
In 2015, it was reported that Harvard University started asking incoming students their preferred pronouns during the registration process. It gave students the option to identify with gender neutral pronouns such as ze and they.
Harvard went further and encouraged its staff and students to be increasingly conscious of how they address people. The Harvard Gender Action Portal did a report detailing how using certain pronouns, such as he, when addressing a group of people can be alienating to those who are female and gender non-conforming. The report suggests people use gender-neutral terms like oneself.
For several years, schools in the University of California system have offered multiple gender options on the application, some of which include trans, queer, and gender non-conforming.
"When a university has better information on their student population, better decisions can be made about allocating the resources to support students," a UC spokeswoman told the Los Angeles Times.
At the University of Vermont, one student in the doctorate program told Inside Higher Ed that, "from a legal perspective, the only thing that needs to list one's legal name is grades, the transcript."
What's more, the Gender and Sexuality Center for Queer and Trans Life at the University of Minnesota created a program that consists of "pronoun training" for their staff.
The goal of the new program is to educate the staff about how to treat gender non-conforming students. According to The Minnesota Daily, the training that happens this spring will be "focused on names and pronouns." As time goes on, the university plans to expand this program and teach staff about other issues pertaining to LGTBQ+ students.
Though many feel these sorts of policies are a step in the right direction, controversy surrounds them. Some argue these policies create a sense of forced action and limit free speech.
"The idea that students should be forced to use certain words associated with ideas they oppose isn't just oppressive — it's blatantly unconstitutional," opines Brad Polumbo in National Review.
At the University of Michigan a few years back, one college conservative decided to make a point by proclaiming his preferred pronoun as "his majesty."
MORE: Universities teach gender fluidity as fact to college students
MORE: The war on male and female
IMAGE: Andrii Zastrozhnov / Shutterstock
Like The College Fix on Facebook / Follow us on Twitter