In a statement issued Monday, George Washington University President Mark Wrighton backed off his pledge to "unmask" students responsible for posters critical of the Chinese government over its handling of the Olympics.
"At that time, and without more context on the origin or intent of the posters, I responded hastily to the student, writing that I, too, was concerned," said Wrighton.
Wrighton said the decision to remove the posters after hearing "concerns" from students and members of the Chinese community was a "mistake."
"Every member of the GW community should feel welcome and supported, but I should have taken more time to understand the entire situation before commenting."
The posters, created by an Australia-based Chinese artist named Badiucao, humorously criticized the Beijing Olympics and China's human rights record. They portrayed a Chinese hockey player bloodying a Tibetan monk, a Chinese snowboarder atop a surveillance camera, faceless Chinese biathlete poised to execute a member of the Uighur minority, and a curler representing China's delay in warning the world about COVID.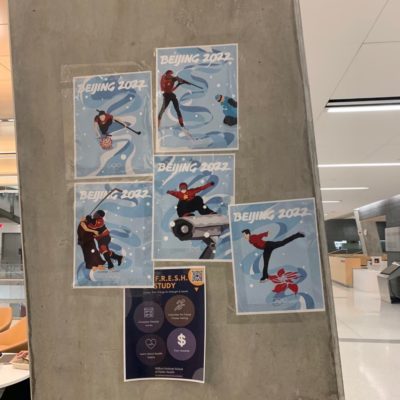 On Sunday, the GW Chinese Cultural Association demanded punishment for the posters, which they argued were not subject to free speech protections.
Wrighton responded, saying he was "personally offended" by the posters and promising to uncover who was behind them.
"I treasure the opportunity to work with talented people from all over the world, including China. Your reaching out to me directly is much appreciated, and we are working to have all of these offensive posters removed as soon as possible. I, too, am saddened by this terrible event and we will undertake an effort to determine who is responsible," he wrote.
But after public pressure, including from Badiucao himself, Wrighton relented on Monday.
"I want to be very clear: I support freedom of speech—even when it offends people—and creative art is a valued way to communicate on important societal issues." Wrighton said in his statement. He further promised that the school will "not take any action against the students who displayed the posters."
Badiucao was not impressed.
"I think it's a huge scandal and shame that a president of well known University is so ignorant and not informed to understanding my art," he told National Review. "We're not talking about someone who is not aware of the international situation or the human rights issues around the Olympic Games. This is really just public common sense."
On Monday, the artist issued his own statement, asking for an apology from Wrighton.
This is my response to @PresWrightonGW the President of @GWtweets new statement on my post.

I weclome the decision from GW to admit it's a mistake to take down my art.

However, stopping wrongdoing won't just fix the damage already done. pic.twitter.com/OHYlxIC15K

— 巴丢草 Badiucao💉💉 (@badiucao) February 8, 2022
"I think with all the mistakes and damage to my reputation as a Chinese dissident artist, Mr Wighton [sic] owes me an apology," he wrote.
Sarah McLaughlin, of the pro-free speech Foundation for Individual Rights in Education, said the group is "pleased" to see Wrighton reach the "right result."
"But next time, we hope GW reaches it immediately, rather than after widespread criticism," wrote McLaughlin. "Had the public not been made aware of Wrighton's response, it's possible that students would have been punished simply for speaking their minds. That's an outcome that should shame any American university worth attending."
Read more here.
ALERT: Check out our new Campus Cancel Culture Database!
IMAGE: Badiucao
Like The College Fix on Facebook / Follow us on Twitter