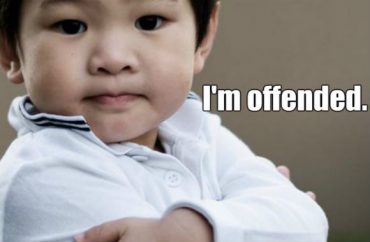 A Student Association senator at George Washington University has "reignited" the debate surrounding the schools nickname, "Colonials," after the topic had "fizzled out" last semester.
Hayley Margolis will host a discussion on Wednesday titled "A Panel on the GW Colonial and Inclusive School Spirit" where three GWU faculty members and a former ambassador from Tanzania "will discuss the history of colonialism," reports The Hatchet.
"I think that's a really good way to start that conversation on campus," Margolis said. "When we talk about the Colonial in history, what does it mean? And is that really what we want our school identity to be?"
The event's Facebook page reads "Together, let's decide if the colonial is the best identity for community school spirit." However, don't be surprised if the "discussion" and "togetherness" aren't anything of the sort; after all, Margolis says she wants to move beyond a "casual conversation" in order to "educate officials and students on the negative impact" the mascot has on international students who (may) have dealt with colonialism.
[Margolis] said having the Colonials as the University's team name may discourage students from having "inclusive" school spirit because the moniker could be associated with ethnophobia – the hatred of a different race – and oppression.

"We're a very diverse institution," Margolis said. "There are students that, if we were back in Colonial times, wouldn't have been represented or treated equally. School spirit is something that should be based on equality."

Margolis said she wants the panel to create a more "official" conversation about the issue because it will be the first time faculty, students and officials will be in the same room discussing the topic. …

Fran Buntman, an associate professor of sociology who will speak at the event, said she will share her experiences growing up in South Africa during Apartheid, which sanctioned racial segregation between 1948 and 1994, to educate domestic students about the real-life impact of colonialism.

She added that the term "colonialism" is often misattributed to President George Washington's era, but Washington was an anti-Colonial who led an army of revolutionaries against British control of the 13 colonies.

"It's always mystified me as to why GW would want to be associated with the idea of colonialism, let alone celebrate it," Buntman said.
Last year, a petition was started to replace the Colonial with either "Hippo," "Riverhorse," or "Revolutionary." Former Hatchet reporter Andrew Hesbacher, one of those involved in the campaign, said that "in a lot of places," the Colonial means "terrorist [and] murderer."
"Why would we continue to call ourselves that?" he asked.
Jordan S. West, GWU's new director of diversity education, recently said she would look into changing the school's mascot to something "less offensive."
MORE: Fresno State should consider Barney the dinosaur as its mascot
MORE: Cal. State-Long Beach ditches mascot because 'racism, genocide'
Like The College Fix on Facebook / Follow us on Twitter