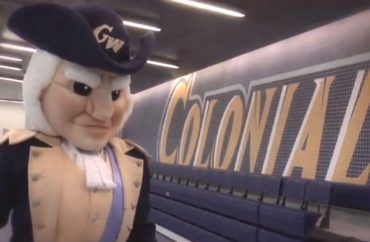 George Washington University announced Wednesday that it will officially dump its "Colonials" nickname in an attempt to "unify" the campus community.
The decision was made by the Board of Trustees based on the recommendation of the Special Committee on the Colonials Moniker.
"Both the board and special committee ultimately determined that given the division among the community about the moniker, it can no longer serve its purpose as a name that unifies," the university stated in a news release.
The nickname "Colonials" came into use in 1926, and "George" has been its mascot since 1948.
"In this case, the special committee found that the Colonials moniker does not adequately match the values of GW and can no longer serve its purpose as a name that unifies the community," the university stated.
GWU Provost Christopher Alan Bracey said Wednesday's decision to dump Colonials matches modern times.
"We have evolved over our 200 years as an institution and a community," Bracey said in a statement. "Today, the moniker no longer does the work that a moniker should—namely, unifying the campus behind our academic and athletic institutional aspirations."
In 2018, a petition said the Colonials nickname has "too deep a connection to colonization and glorifies the act of systemic oppression." The petition had suggested alternatives such as hippos, riverhorses and revolutionaries.
In April 2019, a slim majority of George Washington University students voted to dump the Colonials nickname.
In its announcement Wednesday, GWU stated that Colonials will continue to be used until a new moniker is introduced, likely during the 2023-24 academic year "after a broad university community engagement process."
George Washington University has announced that it will discontinue the use of our colonials moniker based on uninformed and inaccurate objections. https://t.co/RklYyn20mK

— Jonathan Turley (@JonathanTurley) June 15, 2022
The decision drew criticism from Jonathan Turley, a prestigious George Washington University law professor, who noted the Colonials "moniker has been associated with GWU for roughly a 100 years."
"The term 'Colonials' is an obvious and direct reference to those who fought in the Revolutionary War. They are people worthy of admiration from George Washington to James Madison to George Mason and others," the scholar wrote on his personal blog.
"… The emphasis however of the panel is the history of colonialism in the world, not the Colonial as a term in the United States. Just as we strive to understand the meaning and traditions of other countries, there should be a modicum of effort to recognize our own meanings and traditions. The Colonials fought against foreign rule. They were not advocates of colonization. For those interested in GW, that is part of understanding our history and our values."
MORE: George Washington University students approve measure to dump Colonials nickname
IMAGE: YouTube screenshot
Like The College Fix on Facebook / Follow us on Twitter