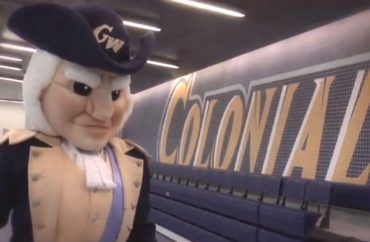 'glorifies the act of systemic oppression' 
A slim majority of George Washington University students voted on Thursday to dump the school's "Colonials" nickname, represented as a mascot of President George Washington.
According to the university's website, the nickname "Colonials" came into use in 1926, and "George" has been its mascot since 1948.
But students "voted narrowly in favor of a controversial referendum calling on GW to abandon the Colonials nickname, with 54 percent of voters supporting the effort," the Hatchet campus newspaper reports.
The issue has been a hot topic for some time, with a petition from last spring declaring the moniker offensive.
"The use of 'Colonials,' no matter how innocent the intention, is received as extremely offensive by not only students of the University, but the nation and world at large," the petition read. "The historically, negatively-charged figure of Colonials has too deep a connection to colonization and glorifies the act of systemic oppression."
The petition had suggested alternatives such as hippos, riverhorses and revolutionaries.
Administrators, who likely have the final say on any change, have yet to weigh in publicly on the referendum results. However, campus leaders have already been weighing the issue.
In February, the student government passed a resolution calling for a referendum to let students decide "whether or not the Colonials moniker is one that represents GW students," Fox News reported. The wording of the measure asked students if they wanted to "remove and replace" George the Colonial, Campus Reform reports.
Leading up to Thursday's vote, some voiced opposition to the measure.
The university's Young Americans for Freedom chapter stated that "a colonial is a unifying symbol of American resistance; it represents the American attitude to stand up to those who seek to defy liberty and justice for all. The referendum is an effort to divide the GW community."
And George Washington University law professor Jonathan Turley also spoke against the effort.
"The name Colonials is being stripped of its own historical meaning and wrongly treated as synonymous with 'colonialism,'" he told Fox News earlier this month. "Not only were the colonials not a manifestation or celebration of colonialism, they were the very symbol of resistance to colonialism. They fought the British Empire to secure self-rule. In doing so, they defeated the greatest world power of its time."
While the measure to scrap the nickname passed, it's unclear if it truly represents a majority opinion, given that only about 5,000 students voted in the election, while about 12,000 undergrads attend the private institution.
MORE: GWU student senator revives effort to ditch 'Colonials' nickname
MORE: Petition to change 'Warrior' mascot: 'whites stole, raped, murdered'
IMAGE: YouTube screenshot
Like The College Fix on Facebook / Follow us on Twitter