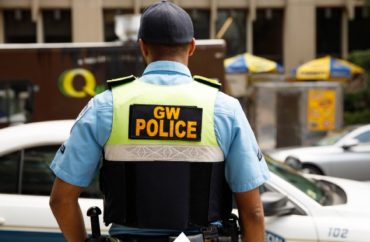 Hundreds staged an unsuccessful protest against the measure in April
George Washington University in Washington D.C. is moving forward with plans to arm some campus police officers this fall despite ongoing student pushback, a massive protest, and a petition against the measure.
"Members of university leadership, including [George Washington Police Department] Chief James Tate, have been meeting with students, faculty, staff, and other stakeholders to gain input and feedback on implementation as well as other priorities for reimagining public safety at GW," according to the GWU police department website.
Each armed campus police officer — approximately 20 out of a total of 50 on the force — will complete a 56-hour firearms course and a virtual reality training simulator, according to the website.
Campus administrators last month released a safety proposal that included arming officers and accepted public feedback on it through last Friday, Higher Ed Dive reported.
The newly armed officers are part of a "holistic approach to enhancing public safety," according to a May 26 article published by GW Today.
In addition, all GWPD will complete training on topics including de-escalation, implicit bias, mental health response and trauma-informed interview techniques.
Students at George Washington University held a mass protest April 17 in response to administrators' decision to arm some campus police officers in light of recent high-profile shootings across the nation, The College Fix reported.
"Hundreds took to the streets" and "filled Kogan Plaza," DC News Now reported. Protesters also marched to interim University President Mark Wrighton's home.
"GW is arming GWPD, a private police force that CONTINUES to assault and harm students," George Washington University Students Against Imperialism wrote in an Instagram post announcing the protest march.
"GWPD will arm roughly 20 of about 50 total GWPD officers with 9 mm handguns in response to heightened gun violence in the United States, including recent school shootings at colleges like Michigan State University and the University of Virginia," GWU President Mark Wrighton said in an April interview with The GW Hatchet, the campus student newspaper.
An email Wrighton sent to the GW community stated "after more than a year of 'careful consideration,' officials will arm 'specially trained' GWPD officers who can immediately respond to developing emergencies, which they currently defer to armed officers in other departments," according to The Hatchet.
With officers set to be armed on campus, an annual use of force tracking report will be implemented beginning in spring 2024 to determine the benefits of the police being armed, according to the campus police website.
Despite the efforts of GWPD, an online petition titled "Tell GW: No Guns for GWPD!" has 777 signatures as of Tuesday.
MORE: Portland State rearms its campus police over activist objections
IMAGE: George Washington University
Like The College Fix on Facebook / Follow us on Twitter