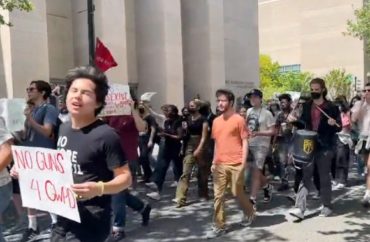 Decision was made in response to heightened gun violence in U.S., recent attacks at universities, president said
Students at George Washington University in Washington D.C. held a mass protest of administrators' decision to arm some campus police officers in light of recent high-profile shootings across the nation.
"Hundreds took to the streets" and "filled Kogan Plaza" on Monday, DC News Now reported. Protesters also marched to interim University President Mark Wrighton's home.
"GW is arming GWPD, a private police force that CONTINUES to assault and harm students," George Washington University Students Against Imperialism wrote in an Instagram post announcing the protest march, which took place on April 17.
"GWPD will arm roughly 20 of about 50 total GWPD officers with 9 mm handguns in response to heightened gun violence in the United States, including recent school shootings at colleges like Michigan State University and the University of Virginia," President Wrighton said in an interview with The GW Hatchet, the campus student newspaper, published April 13.
An email Wrighton sent to the GW community "state[d] after more than a year of 'careful consideration,' officials will arm 'specially trained' GWPD officers who can immediately respond to developing emergencies, which they currently defer to armed officers in other departments," according to The Hatchet. 
The university is set to arm the officers beginning this fall, according to WUSA9.
GWU law professor emeritus John Banzhaf, the author of an October 2022 study of shootings at universities and schools in 2022, told The Fix via an interview that while he did not specifically recommend arming campus police, he thought the decision was "wise" and "inevitable."
"With all due respect to the legitimate concerns students – especially those of color – may have with being unlawfully shot by regular uniformed police," Banzhaf told The College Fix, "their concerns about being shot or otherwise injured by GWU campus police (armed or otherwise) seem to be largely unfounded, perhaps bordering on paranoia and/or simply exaggerated for effect."
"I do not recall, anytime during recent years, or even in the past, reports of college students of any race being unlawfully shot by their campus police," Banzhaf said. "On the other hand, campus police have been injured during student demonstrations."
Banzhaf's study last October began by highlighting the unique vulnerability of higher education institutions to an active shooter.
"As colleges and universities in the United States and elsewhere ramp up to begin a new term, most are woefully unprepared for the possibility of an active shooter, and for the carnage and massive potential legal liability which is almost certain to occur at several different locations this very school year," it stated.
Nonetheless, Students Against Imperialism framed the action as "an attack on black and brown students," according to its Instagram post.
"This is an attack on the poor and the working class," the group stated. "This is an attack on DC residents, who will almost certainly be brutalized by an armed GWPD. GW stands firm against the institutions of racial violence and we demand as a unified movement – NO GUNS FOR GWPD."
Currently none of the GWU police force carries firearms, according to Fox News.
The College Fix reached out via email or online contact form to GWU Chief of Police James Tate, police operations head Captain Gabe Mullinax, President Wrighton, the Board of Trustees, and media relations on April 15. No replies have been received.
MORE: Amid spate of sex assaults, university pledges sensitivity training for campus police
IMAGE: @MauricioNBC4/Twitter
Like The College Fix on Facebook / Follow us on Twitter