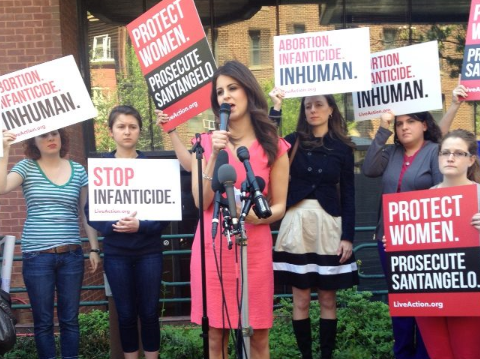 More than 100 prolife activists and students converged Wednesday at an abortion clinic at George Washington University to protest the late-term abortions performed there – as well as its practitioner, Dr. Cesare Santangelo, who was caught on video saying he would not give medical assistance to a baby who survives a late-term abortion.
Santangelo made the statement in an undercover video expose released Monday by the prolife advocacy group Live Action. In it, the Washington Surgi-Clinic doctor admits he would leave to die a baby struggling for life after a failed abortion.
"Technically-you know, legally we would be obligated to help [a baby born alive] to survive. But, you know, it probably wouldn't…like 'do not resuscitate' orders.  We would do the same things here," Santangelo said just over a minute into the video.
It's one of several comments he made to that end in the video.
Live Action's founder, Lila Rose, obtained the undercover footage part of a series she undertook targeting late-term abortion providers. She is not a student at GWU.
Her investigation has created an additional shockwave in the wake of Dr. Kermit Gosnell's trial in Philadelphia, which has prompted national outrage because he, too, is accused of leaving babies to die after failed abortions.
During Wednesday's protest, Rose announced she is scheduled to meet today with the board of directors of the D.C. clinic featured in the video, and plans to ask for the doctor's eviction.
As Rose spoke, about 20 George Washington University students stood behind her holding signs that said "Protect Women, Prosecute Santangelo" and other posters with messages against late-term abortions.
"I don't see how having an abortion clinic on campus could ever be a good thing," said George Washington University sophomore Aria Marrogi in an interview with The College Fix. "Not only are innocent babies being killed, but Santangelo is capitalizing on the fact that college students do have sex, and that some of them do get pregnant; [the fact] he does it for profit is outrageous."
The abortion clinic is technically located at George Washington University, an urban campus where off-campus/non-GW property buildings are considered "on campus." The building that houses the abortion clinic sits on George Washington University-owned property.
The abortion clinic is on the fourth floor of 2112 F Street in the Foggy Bottom area of Washington, D.C., a facility that also houses a tanning salon on the first floor many students frequent. It's also next to one of the most coveted dorms for sophomores, the Dakota residence hall, with about 200 beds.
During the protest, which also served as a press conference for Live Action, a variety of speakers from well-known prolife advocacy groups spoke.
Abortion survivor Melissa Ohden also took the podium, and told her personal story about how her mother went to have an abortion and induced labor, but the abortion attempt failed and doctors saved her life.
"I could have been lost thanks to people like Dr. Santangelo," Ohden said. "But those doctors didn't see me as a liability, they gave me medical care and they gave me life."
As the protest unfolded, about a half-dozen people stood outside the clinic donning orange vests that said "pro-choice clinic escort." They are part of the Washington Area Defense Task Force.
Paul Vallete, spokesman for the group, said the organization tries to "escort patients past people who are actively trying to stop them."
"In many cases, (the protestors) have no idea why they are going in," he said.
While he did say the organization normally escorts patients into the building blocked by protesters, Vallete said there was no conflict because it was "clearly intended to be a rally…not an effort to stop patients from entering the building."
Indeed, Wednesday's protest is not the first time George Washington University students have targeted the abortion clinic.
GW Catholics Pro-Life Committee leads a group of five to 10 students every Tuesday to pray the rosary for about twenty minutes outside the clinic, said Rosemary Holt, a member of the committee and head of the campus group Colonials for Life.
It's well known among university students that late-term abortions are provided at the facility, and that prolife students don't like it.
George Washington University sophomore Julie Bessler, who lives in the Dakota residence hall, said she saw another protest outside the building earlier this year.
"This was the biggest protest I've seen outside this particular clinic," Bessler said.
The 20-year-old international affairs major from New Jersey said these protests never interfered with her studying personally, especially as GW approaches finals next week, but other students may disagree with her.
Fix contributor Katherine Rodriguez is a student at George Washington University.
CLICK HERE to Like The College Fix on Facebook.
IMAGES CREDIT: Katherine Rodriguez