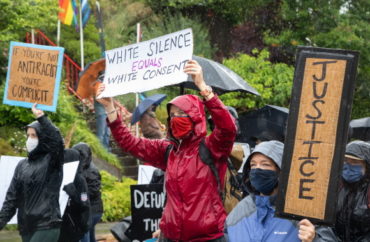 Among the violent languages listed is 'theistic language' at the Catholic institution
A new policy recently announced by the student leaders of Georgetown University's Lecture Fund speaker series declared "oppressive language … is violence" and pledged half its coffers for the upcoming school year to amplify "black voices."
The tuition-funded Lecture Fund at the private Catholic university is described, however, as a "non-partisan student-run organization that exists to enrich the academic experience of the Georgetown community," according to its website.
The fund has previously hosted guest lectures by Barack Obama, Bradley Cooper, Peter Thiel, Warren Buffett and Edward Snowden, among others.
Its website's header proudly boasts a quote from Georgetown's newspaper The Hoya about the Lecture Fund's mission: "Keep them coming, all of them — the radicals, the politicians, the spiritual leaders and whoever else can be roped into speaking here…our minds need to be challenged, inspired and opened."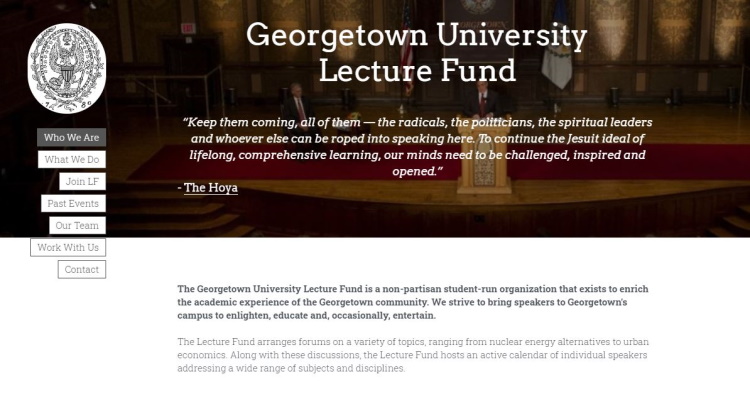 However, this mission seems to have changed due to the recent policy announcement via the fund's Facebook and Instagram pages that it will use half of its annual $85,000 budget during the 2020-21 school year exclusively to amplify "black voices."
The fund has pledged to "prioritize the wellbeing of Black students in the process of inviting speakers to campus" because "it is clear that free speech, without consideration of context or history, is neither free nor fair in its impact on Black lives."
The post revealing the new policy quotes author and activist Toni Morrison to explain its new protocol. The quote reads in part "Oppressive language does more than represent violence; it is violence…sexist language, racist language, theistic language — all are typical of the policing languages of mastery."
In effect, the official tuition-funded lecture series of a Catholic University apparently believes that theistic language is violence.
The student chair of the Lecture Fund, McAfee Sheehan, declined to comment to The College Fix on the decision-making process or other aspects of the program's announcement. A campus spokesperson did not respond to a request for comment from The College Fix.
An analysis by the Georgetown Review found that the Lecture Fund already appeared to have a bias in speaker selection after reviewing its guest talks between October 2013 and March 2017.
"The data shows that liberal speakers were vastly overrepresented compared to moderate and conservative guests. In fact, liberal and left-leaning speakers accounted for approximately 70% of political speakers hosted by the Lecture Fund during this period. Moderate conservatives were the least represented group among the categorization of political speakers, with only one recorded in the data," the Review reported in 2017.
Writing for The Spectator about the Lecture Fund's recent decision, Georgetown University alumnus Amber Athey pointed out that many students on campus have "compared right-leaning speech to violence and protested when prominent conservatives or classical liberals are invited to speak."
"When I was a junior at Georgetown, I was reported to the administration for coordinating an event with feminist scholar Dr Christina Hoff Sommers, who some students deemed a 'rape apologist,'" Athey wrote. "… The GU Lecture Fund is welcome to pay its own form of reparations, restrict free speech, and advance left-wing causes, but it shouldn't be using student money to do so while posturing as a 'non-partisan' organization that 'exists to enrich the academic experience of the Georgetown community.'"
"The students who currently run the organization have proven with their latest social media pledge that they are merely leftist activists playing pretend at creating diverse and open dialogue."
MORE: Professor censured by dean after criticizing Black Lives Matter movement
IMAGE: VDB Photos / Shutterstock
Like The College Fix on Facebook / Follow us on Twitter