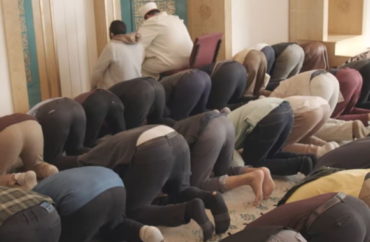 'We need to embrace interreligious dialogue,' says vice president for Georgetown's ministry division
Georgetown University, which touts itself as the oldest Catholic Jesuit university in the United States, founded in the 1790s, recently completed a major construction project erecting a large mosque on campus.
"On March 18, Georgetown officially opened the Yarrow Mamout Masjid, the first mosque with ablution stations, a spirituality and formation hall and a halal kitchen on a U.S. college campus," the university stated in a news release.
It opened in 2019 but construction was completed earlier this year to much fanfare, with a dedication ceremony March 18 drawing Washington, D.C. Mayor Muriel Bowser, who issued a proclamation recognizing the mosque, the release stated.
Georgetown University's media relations, as well as representatives of its Catholic Faith Communities, Catholic Ministry and alumni center, all ignored requests over the last week from The College Fix seeking comment on the mosque.
The Catholic Georgetown is not shy about embracing Islam. Its news release touted the fact that Georgetown was also the first U.S. university to hire a full-time Muslim imam 24 years ago.
In 2016, students at Georgetown University elected a Muslim student to serve as their student association president, a first for the school.
Georgetown's newly debuted mosque "provides a space for reflection, prayer, community and interfaith dialogue for Muslim and non-Muslim students at Georgetown," its news release stated, adding it hosts five daily prayer services, educational programming and spiritual discussions.
"The masjid [another word for mosque] builds on the university's commitment to interreligious understanding and care for the whole person, or cura personalis, in creating sacred spaces on campus and community for students of all faith traditions," it stated.
The Hoya student newspaper reported that the mosque was named after Yarrow Mamout, who was a slave that practiced Islam throughout his life and lived in the Georgetown neighborhood after gaining his freedom in 1796.
"The construction of the Yarrow Mamout Masjid has been a long-awaited moment for the entire Muslim community at Georgetown, as it provides a visible and tangible expression of the community's presence and contributions on campus," Aleena Dawer, director of spirituality and service of Georgetown's Muslim Students Association, told The Hoya.
Nile Adhami, incoming president of Georgetown's Muslim Students Association, told The Hoya the mosque is "a place where I can feel comfortable to be myself, and engage my Islamic faith to the fullest. In a Catholic Jesuit University, that's a big deal."
Fr. Mark Bosco, the vice president for Georgetown's Mission and Ministry division, said in the news release: "We're trying to form students to be people for others."
"And in doing that," Bosco added, "it means we need to embrace interreligious dialogue."
"Coming to these different places, being invited by another student to come to the masjid, for example, whether you're Muslim or not, invites us to explore the richness of Georgetown's heritage and its deep commitment to our faith traditions."
MORE: At Catholic university, Muslim elected student association president
IMAGE: YouTube screenshot
Like The College Fix on Facebook / Follow us on Twitter