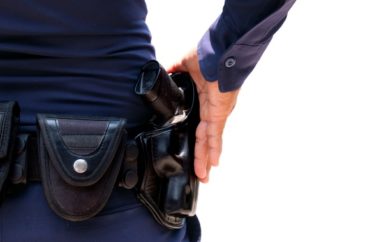 Police officers currently only carry pepper spray and batons; activists call for 'armed security'
Nearly two dozen student activists at Georgetown University recently petitioned the school's president, John DeGioia, to permit the university's police force to carry firearms on campus, a demand that comes amid a nationwide debate on gun control and guns in public places.
The group, GU Advocates for Responsible Defense, implored the president to exercise "immediate resolve" and permit "armed security" on the Washington, D.C.- area Catholics campus.
"As a first step, we would like DeGioia to work with Metro PD in order to place armed security on campus. Second, we want him to give [University Police] Chief [Jay] Gruber the authority to train and equip his officers with firearms," the letter read, a copy of which was obtained by The College Fix.
"A properly trained and equipped police force will not foreclose the possibility of an active shooter. But our focus must be deterrence, prevention, and, as a last resort, interruption, using lethal force if necessary," the letter reads.
T.J. Collins, a member of the group, told The College Fix that there is evidence "that armed officers present a compelling deterrent to would-be shooters."
"Dylan Roof, the perpetrator of the Charleston church shooting, had originally intended to target a college campus but changed targets after learning that the school had armed security," Collins said via email
Asked what kind of training the group believes the police department should undergo, Collins said that "special emphasis should be placed on interacting with young adults and the issues of intoxication, drug use, and sexual assault."
The proposal to arm campus officers has met with some pushback. In an op-ed in the school newspaper The Hoya, three Georgetown students—Ari Shapiro, Emma Vahey and Jawad Pullin—criticized the idea of allowing guns on the school's campus, claiming it would be "risky at best and lethal at worst."
Citing "the often-contentious relationship between people of color and law enforcement," the writers argued in part that "the threat of unjust policing could be amplified on campus by arming officers."
Responding to this claim, Collins expressed "complete confidence in Chief Gruber to adequately train and equip his officers."
"This is not just an issue of safety, but an issue of trust. GUPD should continue to work with the community to build trust but doing so does not preclude taking necessary steps to protect our entire community," he said.
Georgetown University's police department did not respond to requests for comment on Monday. Asked if the university supported the goal of arming its campus police, spokesman Matt Hill did not directly answer, saying instead: "We have received the letter and are are reviewing it."
"Our top priority is the safety and security of our community and we are constantly working to prevent violence and ensure the security of our community," Hill told The Fix.
The Georgetown University Police Department, Hill added, "currently follows the same model as other local institutions in the region, including George Washington University and American University. GUPD coordinates closely with [the Metro Police Department] and regularly conducts drills with them." University police officers carry pepper spray and batons, he said.
The members of GU Advocates for Responsible Defense urged DeGioia to move quickly to change the university's police policy.
"The time to correct the current dangerous policy is now," they wrote. "Acting the day after a tragedy is too late."
MORE: Despite facing threats, Evergreen State College refuses to arm its police with rifles
MORE: Student protesters demand campus police be disarmed, call cops 'harmful to climate'
IMAGE: Shutterstock
Like The College Fix on Facebook / Follow us on Twitter