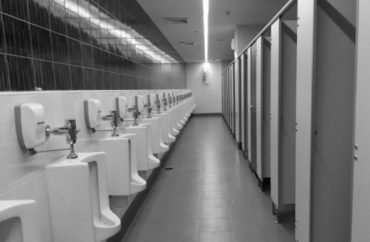 Who could have seen this coming?
Girls in United Kingdom schools are refusing to use unisex restrooms as they fear "period shaming" and general harassment from boys. As a result, many institutions are rethinking the "serve all" lavatory concept.
Unisex "loos" were established because separate-sex facilities are "not inclusive" to transgender students.
According to the Daily Mail, some female students even refuse to get a drink of water due to fear of bullying.
A parent of a secondary school girl told the newspaper that 'boys are always speculating on whether girls are having their periods according to how long they take in the toilet.'

Feminist campaigners Women's Voices Wales claim that the 'safety and dignity' of girls at school is being neglected.

The group found pupils, parents and staff are often too embarrassed to complain about the unisex loos and has called for a policy to be reviewed.

Spokesperson Helen Raynor told the newspaper that no schoolgirl should feel like they are unable to use the toilet.

She said: 'No child should avoid school, or stop drinking water so they don't wee. Girls cannot "hold periods in".'

A Welsh Government spokesman said that it will review the findings to see 'whether further guidance' is required. It added that when schools are built 'stakeholders' are consulted 'to ensure the school offers facilities that are fit for purpose'.
At least one American institution scrapped the term "unisex" three ago because it deemed the term "exclusive." The University of Missouri Students Association adopted a resolution which made "MU's campus bathrooms more accessible to trans and gender non-conforming students." The word "unisex," according to SA social justice chair, "excludes people who do not identify as male or female," and is "such an uncomfortable and outdated word."
Read the full Daily Mail article.
MORE: Adventures in gender-neutral bathrooms
MORE: University students conduct audit of campus bathrooms
IMAGE: Shutterstock.com
Like The College Fix on Facebook / Follow us on Twitter