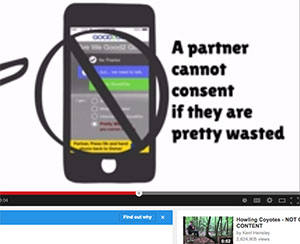 Just two weeks after its debut, the sexual-consent app Good2Go has been removed from the iTunes store and its maker has voluntarily blocked it from Android devices as well.
Sandton Technologies said this morning that Apple pulled the student-focused Good2Go, citing a clause in its app guidelines that says "apps that present excessively objectionable or crude content will be rejected."
It's not clear what was "excessively objectionable or crude" about the app, which asks partners who consent to sex how "intoxicated" they are and blocks them from giving consent in the app if they answer "totally wasted."
"In light of this decision by Apple, Good2Go has additionally decided to remove the app from the Google Play Store and disable user registration, data capture and storage features of the app, and has eliminated all data records," the company said in a press release.
The College Fix is scheduled to talk to the company later today and will update this post at that time.
The company is retooling Good2Go, which faced a barrage of critical reviews and confusion about its purpose, with an eye on submitting a new version to both Apple and Google this spring.
Sandton is adding a new "public forum" to the Good2Go website where "concerned citizens" can provide input on what should be in the next version of the app, President Lee Ann Allman said in the release: "It is our hope that this now becomes everyone's project."
Allman said the company was "surprised Apple considers our app 'excessively objectionable and crude.'"
Good2Go's purpose is to "elevate the conversation about sexual assault prevention on college and university campuses and provide students with a tool that educates them about the language of affirmative consent, while facilitating open and honest conversations," she said.
Unlike Google and its Play store for Android devices, Apple is known for a thorough and sometimes opaque review process that can leave app developers scratching their heads on why something was rejected or yanked after the fact.
Its developer guidelines refer to a Supreme Court case that wrestled with how to define pornography. "We will reject Apps for any content or behavior that we believe is over the line," one section says. "What line, you ask? Well, as a Supreme Court Justice once said, 'I'll know it when I see it.' And we think that you will also know it when you cross it."
Again alluding to Supreme Court theory and precedent, Apple's guidelines say: "This is a living document, and new Apps presenting new questions may result in new rules at any time. Perhaps your App will trigger this."
Good2Go's carefully worded press release seems intended not to violate another developer guideline: "If you run to the press and trash us, it never helps."
In keeping with its normal practice with the media, Apple did not respond to a request for comment from The College Fix.
Greg Piper is an assistant editor at The College Fix. (@GregPiper)
Like The College Fix on Facebook / Follow us on Twitter
IMAGE: Good2Go screenshot