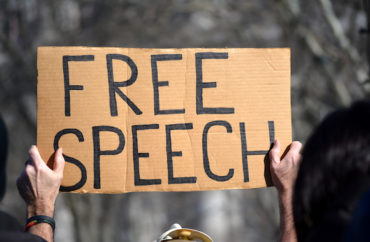 Nearly a year after Cornell officials were roundly criticized as having created "speech tariffs" for controversial speakers, administrators have now reversed course and announced security fees for such events have been mostly eliminated.
The decision, announced April 30 in an email to the campus community, is seen by some as a major win for free speech on campus. Prior to this, a "fixed price" system allowed Cornell cops to decide security fees by predicting reaction to speakers.
If officers felt a certain speaker may spark protests, they would impose higher security fees, which the Foundation for Individual Rights in Education dubbed "speech tariffs" at the time.
Cornell Vice President Ryan Lombardi cited support for diversity of thought in his email announcing Cornell's decision, stating "security fees for most events sponsored by students and student organizations will be eliminated. This will allow student groups to have large and small events to promote the free exchange of ideas, which is a hallmark of our university."
However, the proposal does come with limits.
According to Lombardi's statement to students, "this new process will cover the cost of Cornell-provided security only. Any outside security required by a particular speaker or entertainer will not be covered."
Furthermore, he states that "there is an $8,000 limit per event for university-covered security costs." But he added it is unlikely an event would exceed this cost, noting "this cap exceeds the security costs required at recent events that have included both high-profile speakers and protests."
The move has garnered the praise of campus organizations, who claim this will grant them a greater ability to host speakers.
In a statement to The Cornell Daily Sun, Adam Khatib, president of Cornell Islamic Alliance for Justice, said the decision is in the right direction to help support dialogue on campus.
Similarly, in a statement to The College Fix, Cornell College Republicans Vice President Isaac Schorr said the decision to ax fees "has been a long time coming."
Schorr said "all Cornellians should be proud of this step towards a more open campus discourse and empowered student body."
"The Cornell Republicans are proud to have spent years lobbying the administration on behalf of all students for the right to bring speakers to campus without having to pay burdensome and arbitrary fees," he said.
The move comes on the heels of a campus-wide effort to update Cornell event management policies following student objections to the former policy. In a February 2019 editorial by the Cornell Daily Sun, the student newspaper spelled out the problem.
"[B]y maintaining the event security fee, the University hands any and all agitators a potent tool to curb speech on precisely those grounds — or any grounds at all," the editorial stated.
"Committed protesters need only threaten on social media to stir up trouble. That, in turn, raises EMPT's assessment of security risk for a given event," it added. "The cost of security is then passed along to the event's organizers via the security fee. In effect, the security fee acts as what [Cornell Republicans President] Michael Johns, Jr. '20 aptly called a 'heckler's tax.' That tax was certainly high for Johns' Cornell Republicans when they paid $5,000 to bring Rick Santorum to campus."
Nationwide, security fees often represent a major barrier to bringing speakers to campus. For example, last year The College Fix reported that Stanford had initially charged their chapter of College Republicans $19,000 in security fees to host Dinesh D'Souza. Eventually, the fee was dropped to $4,000.
MORE: Cornell cops decide security fees by predicting reaction to speaker
IMAGE: Shutterstock
Like The College Fix on Facebook / Follow us on Twitter