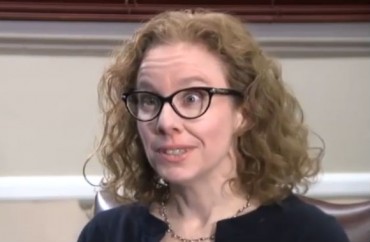 Melissa Click 'is the symptom … not the cause'
JEFFERSON CITY, Mo. – The University of Missouri System needs a Board of Curators willing to stand up to student and faculty activists whose protest methods have provoked the wrath of the Legislature, Republican candidates said at the first gubernatorial debate Monday night.
The antics of suspended Prof. Melissa Click, who physically threatened student journalists covering a black student activist tent city in November, led a top legislator to cut her salary and those of her direct superiors in a budget proposal this week.
Click "is the symptom … not the cause" of the problem, which is "lack of leadership" under lame-duck Democratic Gov. Jay Nixon, businessman and candidate John Brunner said. "And we need strong executive leadership to bring great leaders back into our state" and remove the "shadow" the university has placed over Missouri.
Three curators have resigned from the nine-member board since November. The Republican-controlled state senate has threatened not to confirm any new curator appointments by Nixon, meaning the board will be shorthanded until the governor can appoint interim curators between legislative sessions.
'We expect you to suit up and play football' or forfeit scholarship
Candidate Peter Kinder, the current lieutenant governor, blasted the university for kowtowing to the demands of protest groups at Monday's debate.
A threatened Mizzou football players' strike in November supported by head coach Gary Pinkel could have cost the university more than $1 million in fines had the team forfeited a game against Brigham Young University.
"I would be looking for curators and university leadership and a football coach who would say there would be no strikes on our football team," Kinder said.
RELATED: Melissa Click suspended by Mizzou days after assault charge
"Scholarship athletes are privileged students with free room and board, free tuition, the best meals on campus in their dining hall, and in exchange for that we expect you to suit up and play football, and if you don't you have jeopardized your scholarship."
Kinder said he wants "university leadership that would call those players' bluff," because it would be "far better to pay the $1 million penalty if we had to forfeit the game with BYU that Saturday than to incur the losses we have incurred ever since."
At a meeting earlier this month interrupted by the black activist group Concerned Student 1950, curators learned the UM System would lose $20-25 million in tuition this academic year even before possible Legislature funding cuts.
Curators must be on board with First Amendment rights of students
Candidate and former Missouri House Speaker Catherine Hanaway characterized the Mizzou climate as "lawlessness."
"It's time for … students to be able to exercise their First Amendment rights without having a professor call in the 'muscle,'" Hanaway said, referring to Click's comment at the November protest. "I will only employ curators who are comfortable with that agenda," and demand the resignation of current curators who aren't on board.
RELATED: Mizzou's Melissa Click claims she's an academic martyr because chancellor criticized her
"That Board of Curators is full of Jay Nixon's lawyer buddies," said Hanaway. "We need doctors, we need people from business, we need community leaders, we need people who understand that they are the adults as the curators and the students are there to get an education that you, the taxpayers, are paying for in large measure."
Candidate Eric Greitens, a former U.S. Navy SEAL officer and author, missed the debate due to a scheduling conflict.
Make administrators 'feel the pain'
A budget proposal unveiled Tuesday would dock the University of Missouri's flagship Columbia campus $400,000 specifically for the combined salaries of Click, Mizzou's Communication Department chair and the dean of the College of Arts and Science.
According to The St. Louis Post-Dispatch, House Budget Leader Tom Flanigan is more broadly targeting $8 million in cuts from the university system, focused on its administration. Flanigan said the plans "ensure administrators, not students, feel the pain of these budget actions."
The Republican primary election Aug. 2 will determine who will face Missouri Attorney General Chris Koster, who is the only Democrat running for governor. Filing for Missouri's primary election began Tuesday.
RELATED: Mizzou's Melissa Click told police 'get your f**king hand off me' at previous racial protest
Like The College Fix on Facebook / Follow us on Twitter
IMAGES: ABC 17 screenshot, Mark Schierbecker