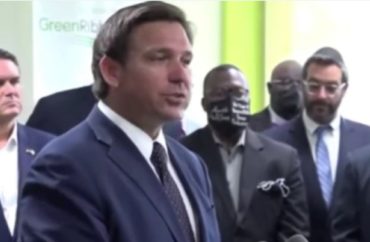 Democrats claim that there are no instances of men defeating women
Florida Governor Ron DeSantis recently signed legislation that will ensure that female athletes compete against other females, as opposed to biological males.
Senate Bill 1028 will preserve "fair opportunities for female athletes to demonstrate their strength, skills, and abilities in athletic competition," according to the governor's office.
The legislation "specifies that an athletic team or sport that is designated for females, women, or girls may not be open to students of the male sex, based on the student's biological sex listed on the student's official birth certificate at the time of birth."
"This issue is an issue of fundamental fairness," Richard Corcoran, the state education commissioner, said in a news release. "Recognizing gender differences is a far cry from discrimination."
The Republican governor signed the "Fairness in Women's Sports Act" at Trinity Christian School in Jacksonville.
Florida Democrats criticized the legislation, which included other education policies.
"By folding the transgender ban into the charter school legislation, Republicans in Tallahassee rejected both science and reason, openly attacking vulnerable LGBTQ+ children without a single shred of evidence that a problem even exists," according to a June 1 news release.
"Not once has there been an incident or complaint in our State alleging that a transgender athlete's participation unfairly impacted middle school, high school or college athletic competition," the Florida senate Democrats said.
The signing of the legislation included comments from Selina Soule, a Connecticut track runner, who lost races to two men who competed in female track competitions.
"Connecticut requires no time period of any length for male athletes to take testosterone-suppressing hormones before competing in a girls' sport," The College Fix previously reported. Soule is represented by the Alliance Defending Freedom in her lawsuit against Connecticut.
USA Today recently stealth edited an opinion piece from Soule's fellow plaintiff, Chelsea Mitchell.
The newspaper changed Mitchell's essay criticizing male participation in female sports to remove the "hurtful language" of the track runner, primarily her use of the word "male."
For instance, the newspaper changed her comments on competing from "all I can think about is how all my training, everything I've done to maximize my performance, might not be enough, simply because there's a runner on the line with an enormous physical advantage: a male body" to say "simply because there's a transgender runner on the line with an enormous physical advantage," according to the Washington Examiner.
MORE: Biden executive order will 'end' female sports
IMAGE: NBC 5 News/YouTube
Like The College Fix on Facebook / Follow us on Twitter