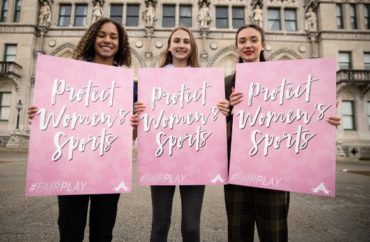 Only males 'able to compete in events that were exclusively male'
The Connecticut Interscholastic Athletic Conference violated Title IX by "permitting the participation of certain male student-athletes" in girls' track events, the Department of Education's Office for Civil Rights told the conference and several school districts in a "letter of impending enforcement action" made public Thursday.
Organizing competitions at the behest of the districts, CIAC denied female student-athletes "benefits and opportunities" including advancement to higher levels of competition, awards and "greater visibility to colleges" by letting men who identify as women compete in their sports.
The federal investigation opened last summer was spurred by a complaint filed by the Alliance Defending Freedom on behalf of three female students (above). The Justice Department sided with the female students just last month.
OCR did not appear to have made public the May 15 enforcement letter before the Associated Press obtained it Thursday. The alliance posted a copy hours later.
The biological females alleged that the "Transgender Participation" policy, first implemented seven years ago, deprived them rights under Title IX by letting "boys who are male in every biological and physiological respect" compete in their sports, as long as they "claim a female gender identity."
The CIAC policy's ramifications for girls' sports in Connecticut became apparent in recent years as two boys who identify as girls started dominating girls' track competitions. It's less demanding than the NCAA's transgender policy, which requires males to take testosterone-suppressing hormones for at least a year before competing in a female sport.
MORE: Justice Department sides with girls challenging Connecticut policy
Three school districts were also found to have violated Title IX by participating in CIAC athletic events. "Glastonbury, Canton, and Danbury placed female student-athletes in athletic events against male student-athletes, resulting in competitive disadvantages for female student-athletes," the feds said:
The athletic events in which the female student-athletes competed were coeducational; female student-athletes were denied the opportunity to compete in events that were exclusively female, whereas male student-athletes were able to compete in events that were exclusively male.
Three more districts – Hartford, Bloomfield and Cromwell – violated Title IX by letting two biologically male runners, Terry Miller and Andraya Yearwood, compete on their girls' teams under CIAC policy. The conference and six districts thus "treated student-athletes differently based on sex," treating males preferentially, OCR said.
(The letter uses pseudonyms for the students but all have been previously named. The girls filed a related lawsuit in February under their real names: Alanna Smith, Chelsea Mitchell and Selina Soule.)
The conference and six districts refused to enter "resolution agreements" with OCR, leading the office to issue them "letters of impasse" – essentially warning letters – March 17. The office gave them 10 days to comply, but extended the deadline by another 30 days in light of "their COVID-19-related duties and responsibilities."
MORE: Connecticut under federal investigation for anti-female policy
It was supposed to send the enforcement letter April 28 yet waited another 17 days, judging by the May 15 date on the letter, which doesn't explain the delay.
OCR will now either "initiate administrative proceedings" to block federal funding for the conference and districts, or refer the cases to the Justice Department for enforcement of federal law. The recipients were given 20 calendar days to mend their ways, meaning by June 4.
"It feels like we are finally headed in the right direction," soon to achieve "justice for the countless girls along with myself that have faced discrimination for years," Mitchell, one of the girls represented by the alliance, said in the public interest law firm's statement. The validation from the feds means that "those championships I lost mean something."
The Associated Press noted that Mitchell had beat Miller, one of the transgender athletes, in two state indoor title races this year.  Lawyers for the transgender athletes claim their clients are "undergoing hormone treatments" to reduce their biological advantage.
The alliance argued in its lawsuit, however, that hormone treatments don't level the playing field because biological males still have many physiological advantages over females: "bone size and hip configuration" as well as "muscle mass and strength, bone mineral density, lung size" and heart size.
MORE: Connecticut gives female athletes 'extra lessons in losing'
Forced to accept policy or lose 'sufficient competitive opportunities'
School districts told federal investigators they felt compelled to go along with CIAC policy because it was the only association in the state "that could provide sufficient competitive opportunities for their students," according to the enforcement letter. One athletic director said it would be pointless for CIAC members to play against nonmember schools because the victories wouldn't count toward qualifying for the state championship.
The conference explained to OCR that it was forced to water down its 2008 policy, which had required "sex reassignment" surgery and a "two-year waiting period" among other provisions, in response to a 2012 state law expanding antidiscrimination law to cover "gender identity or expression."
The revised policy, as it's consistently described in the enforcement letter, removed requirements to "provide any medical information or documentation to the CIAC or its member schools."
OCR went deep into the details of the girls' placements in races relative to the transgender students. "Student A" and "Student B" (Miller and Yearwood) placed first and second in a 55-meter dash last year, pushing "Student 1" (Soule, the only girl to initially identify herself) into the eighth spot. This kept her out of the finals, which were only open to the top 7 finishers.
The biologically male runners also knocked "Student 2" out of first-place finishes in outdoor and indoor races last year. OCR concluded: "Denying a female student a chance to win a championship is inconsistent with Title IX's mandate of equal opportunity for both sexes."
The office said it "also has concerns that additional violations may have resulted … including but not limited to losses or lowered placement" in regular season meets and conference championships as well as blocking some females from participating "generally in a race at any level." Schools themselves may have also suffered from biological males in female races: One may have lost a "team championship" and another "the benefit of a higher placement."
OCR denied one of the most explosive claims in the complaint, however: that Soule and her mother faced retaliation from the CIAC and Soule's coach after they complained about the transgender policy and advocated against it. Soule has been particularly visible in her criticism of the policy.
MORE: 'They took away the spots of deserving girls'
Soule's mother claimed the head of CIAC retaliated by refusing her communications, but that person claimed he treated her "in a manner consistent with how he treated other individuals in similar situations," reminding them to communicate through their own school's representative. OCR verified this practice and deemed it a "legitimate, non-retaliatory reason" for cutting off communications.
And while Soule claimed her coach retaliated by blocking her from a non-CIAC meet, OCR found that the team members themselves choose who among them will compete in this event, sponsored by shoe company New Balance. The office could not determine by a "preponderance of evidence" that Soule's coach told her father that "he would not give a good report" about her to college coaches, as she claimed.
As for her coach snubbing Soule as captain for last spring's outdoor season, OCR found the school provided a "non-retaliatory" reason: that her behaviors showed she lacked "maturity and dedication." She had also been chosen as captain for the preceding indoor season, even though Soule and her father had "engaged in protected activities" (criticizing the transgender policy) before she was chosen. This suggests there was no "causal connection" between the two.
The office also couldn't validate Soule's claim that the coach told her to "consider leaving the team" if she continued ducking out early for work on Fridays, which she claimed was retaliatory. Soule said he didn't make this alleged threat to any other team members who missed practices for work commitments.
MORE: Trans girls win 1st, 2nd at state track championships
MORE: Competed as man last year, won championship as woman this year
MORE: You're racist if you oppose men in women's sports?
IMAGE: Alliance Defending Freedom
Like The College Fix on Facebook / Follow us on Twitter