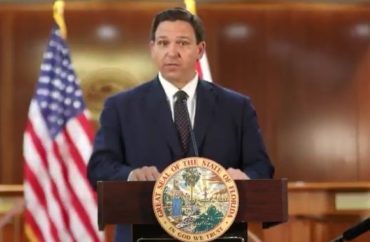 Public health experts have reversed position on linking school reopening to community COVID infections
Florida's governor criticized the Centers for Disease Control and Prevention's Friday night guidance on schools reopening, which he said would close many schools if applied.
Republican Governor Ron DeSantis said the CDC's latest guidance is a "disgrace" and following it would require closing "90 percent" of schools in the United States, in an apparent reference to guidelines that argue for tying school reopening to the transmission of COVID in the surrounding community.
The Washington Post said that the CDC's guidelines on low community transmission would be nearly impossible to meet.
"[F]ull in-person schooling [is] recommended only when levels of community transmission are quite low, a standard that almost no place in the U.S. meets today," the Post said in its summary of some of the problems associated with the new reopening suggestions.
Public health experts who supported tying reopening to community transmission levels have walked back their statements for these benchmarks, after seeing new evidence.
"Early in the pandemic, we saw schools as high-risk congregate settings, because students and teachers spend a lot of time together in the same rooms and then go back into the community, and we didn't know yet how exactly the virus spreads and who is most at risk," Professor Ashish Jha said in December.
However, "we saw no evidence that schools drive significant community spread. With the right controls in place, schools can even maintain lower infection rates than the community," the Brown professor said.
Jha contributed to the initial July report from a collaborative effort between a Harvard center for ethics and the Brown School of Public Health. Jha is the dean of Brown's public health school.
"We must prioritize keeping kids in school, and that means as levels of community spread rise it cannot be 'schools as usual,'" Joseph Allen, a Harvard public health professor, said in explaining why he had reversed his previous position on school reopenings. "The strategies we are recommending for schools are evidence-based and, critically, designed to reduce risk for both students and adult."
Allen contributed to the July report. He also leads the Ivy League university's "Healthy Buildings Program," aimed at figuring out how to reopen schools.
DeSantis said that Florida has successfully kept schools open without major problems.
"Florida schools are open for in-person instruction," DeSantis said. "Every single parent in this state has a right to send their kid to in-person instruction. We have done it the right way, we are not going to turn back."
MORE: Teacher vaccination not a 'prerequisite' for reopening schools, CDC director says
Editor's note: The College Fix wants to make sure it can reach you, even if Big Tech tries to silence us. Consider subscribing today to our Rumble account, where we will post new videos on a regular basis. You can subscribe to our channel and make a free account here.
IMAGE: Ron DeSantis/Twitter
Like The College Fix on Facebook / Follow us on Twitter