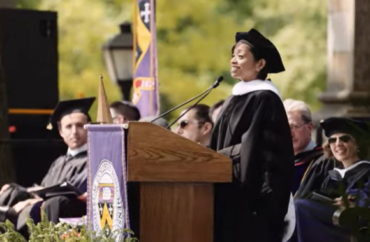 The commencement speaker for a private liberal arts college in Ohio talked about how "viral information" and hyper-masculine "strongmen" create challenges for graduates, leaving some parents dissatisfied with the speech.
Sheila Coronel, an investigative journalist and director of the Toni Stabile Center for Investigative Journalism at the Columbia University Graduate School of Journalism, spoke May 21 for Kenyon College's 194th commencement.
"The world's strongmen have mastered a playbook for viral disinformation. Trump, Marcos, Modi, and Putin borrow from this playbook: They erase and rewrite history. Make America Great Again, Trump said. Like him, strongmen elsewhere invoke a Golden Age and seed a 'Great Again' narrative on social media platforms that care more about profit than about truth, democracy and human rights," Coronel stated in her address.
After commencement, parents debated the speech on the Unofficial Kenyon College Parents Facebook page. While some people expressed satisfaction with the topic, others called the address "insulting," "depressing," "not appropriate for graduation" and "divisive at best."
"After spending $500,000 after tax on my (two) kids' Kenyon educations, I can't say I was thrilled to have to sit through a commencement address dedicated to telling me (or at least anyone not from the radicalized left) how horrible some of us in the audience are," one parent posted on the Facebook page.
Another member of the group commented: "I suspect many who heard the speech thought it was fine. All I can say is I felt it was prurient, over the top and very much insulting."
Kenyon did not respond to a request for comment on The College Fix addressing parents' criticisms of the speech.
Coronel set the tone for her commencement address by listing several events that the outgoing students had experienced: a global pandemic, racial justice protests, global warming and the January 6 Capitol "insurrection."
She also argued that her generation had failed to defend the graduates from "an assault on science, the truth and facts."
Coronel, who was born in the Philippines, recounted her memories of the ousting of dictator Ferdinand Marcos in the 1980s. She labeled the recent election of Marcos' son, Ferdinand Marcos, Jr., in the Philippines as one example of the broader trend of authoritarianism that touches the U.S.
"And yet, in both these countries, I see citizens seduced by strongmen," Coronel said about the Philippines and the U.S. She stated that Donald Trump is similar to "populist leaders" like Vladimir Putin who rise to power on "the assault of facts" and "the stoking of fear."
"They like to wave from balconies, finding affirmation in the adulation of crowds. They thrive in times of insecurity and uncertainty — they are hungry beasts who feed on the frustrations with democracy. They are hyper-masculine and larger than life. Propelled to power by myth and lies, they do not live in the world of facts. They use our broken information system to deny their crimes and to propagate false narratives of victimhood," Coronel said.
The journalist also mentioned "myths" that circulate social media and the news. She pointed to the "replacement myth" associated with the Buffalo shooting and how "lies about a stolen election fueled the January 6 coup."
"There was a time myths like these lived and died in the fevered swamps on the margins of the internet. No longer," she told the grads. "They are now in the mainstream, propagated and kept alive by social media platforms whose algorithms put a premium on virality. Hate and anger go viral. The more outrageous the lie, the greater the chances that it spreads."
Journalists are irrelevant because people are turning to other sources like "homegrown versions of Fox News commentators," Coronel added. "Today two information worlds coexist and rarely engage with each other: One is based on fact, the other, on fantasy."
A parent who attended the commencement address said she was disappointed with the speech although she concurred with some of the content, according to the Facebook page.
"I was there and listened with interest to the speaker. I agreed with her on some points even though I consider myself a moderate. However, it depressed me. It didn't uplift or fill our graduating sons and daughters with hope (except perhaps the last minute). And while life certainly is not all lollipops and unicorns, I would have liked to have heard something different to cap a joyous day," the parent posted.
Another member of the Facebook group disagreed, commenting, "It is a dark speech but I don't see anything false in it (except calling the January 6th insurrection a (coup). These are dark times and a graduation speech addressing the times is quite appropriate."
In an email to The College Fix on May 31, Coronel said she spoke from "her experience as a journalist and as a citizen of two countries."
"I was speaking to students who have survived a pandemic and some of the most divisive moments in U.S. politics in recent years. I probably didn't tell them anything they don't already know," Coronel said in her email.
"I had hoped to inspire them by telling them they have what it takes to rebuild and strengthen democracy and that they can make a difference. What can be more inspiring than that?"
MORE: Only three out of 100 top colleges invited conservatives to address grads: survey
IMAGE: Kenyon College / YouTube screenshot
Like The College Fix on Facebook / Follow us on Twitter