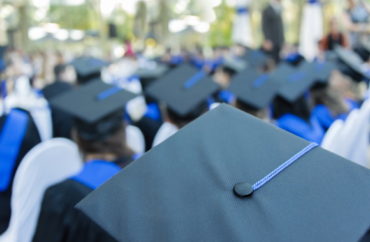 Only three conservatives will give commencement speeches this graduation season at the nation's top colleges, according to a new survey.
In contrast, 53 liberal speakers are slated to headline grad ceremonies among the top 100 universities as ranked by U.S. News and World Report, according to the survey conducted by Young America's Foundation.
Of the remaining colleges, chosen speakers either had unclear ideological affiliations, there were no primary speakers set for the commencement, or a university administrator was selected as speaker, according to YAF.
The foundation determines the speaker's ideology by surveying their FEC records, public statements and endorsements, and service in elected or appointed office.
"Even as Americans are beginning to wake up and wholly reject the Left's disastrous economic policies and culture wars, America's universities are working overtime to rehab the Left's failing image," YAF spokeswoman Kara Zupkus told the Washington Examiner.
"It's truly sad that up until their very last day of school, students are being indoctrinated by speakers with a clear ideological agenda — people who have no intent on giving an actual inspiring, powerful sendoff to our future leaders."
The three conservative speakers are Virginia Gov. Glenn Youngkin, Christian athlete Tim Tebow, and Greek Prime Minister Kyriakos Mitsotakis, the Examiner reports, adding:
Liberal addressees include House Speaker Nancy Pelosi (D-CA), who will address graduates at Brown University, singer and songwriter Taylor Swift at New York University, U.S. ambassador to the United Nations Linda Thomas-Greenfield at the University of Wisconsin-Madison, author and journalist Bob Woodward at Boston University, and Biden administration official Samantha Power, who will speak at Johns Hopkins University.

President Joe Biden is himself scheduled to address graduates at his undergraduate alma mater, the University of Delaware.
YAF, in announcing its survey results, questioned: "Where are leading conservatives like Ron DeSantis, or Peter Schweizer who has a NYT best-selling book on China's influence? Where are leaders like Kristi Noem or Ted Cruz, who led the charge against government overreach during COVID?"
Hillsdale College, which was not surveyed as it is not on the U.S. News and World Report list, hosted Jordan Peterson this month as its grad speaker. Liberty University hosted leadership expert John Maxwell. The King's College in New York gave the platform to the Honorable Kay Coles James, secretary of the Commonwealth of Virginia.
MORE: GWU Law School commencement speaker attacks Professor Turley in speech
MORE: Obama Homeland chief, accused of 'violence on marginalized peoples,' withdraws as grad speaker
IMAGE: Mr. Nikon / Shutterstock
Like The College Fix on Facebook / Follow us on Twitter