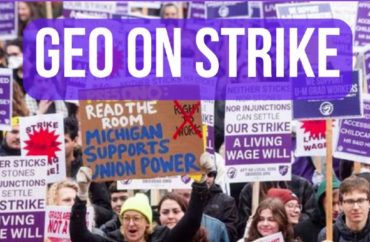 'It is unlawful for public sector employees to strike in Michigan,' the graduate employee union website stated
Graduate student employees striking at the University of Michigan have filed a new unfair labor practice charge against the school.
"At issue in the union's latest charge are three proposed changes to the union's contract and whether U-M is required to bargain over them," according to an April 4 news release from the university.
The proposed changes include providing an "unarmed and non-police urgent response program," compensating social work students in external internships, and "bar[ring] the university from allowing federal agents to enter university property to execute certain search or arrest warrants," according to the news release.
Striking is a legal violation of the Graduate Employees' Organization's labor contract and hurts the ability of the students and campus leaders to negotiate, University of Michigan spokesman Rick Fitzgerald told The College Fix on March 28.
"Beyond any legal considerations is an ethical one," Fitzgerald said, "if collective bargaining is to retain its value, all parties must honor the terms of the contract they signed."
"We urge GEO to reconsider breaching the agreement we reached through good faith collective bargaining," Fitzgerald said. "Nonetheless, our focus remains on continuing instruction for our students and achieving an agreement with GEO through the negotiation process."
The College Fix reached out to GEO on March 28 with questions regarding if the strike is in violation of labor contracts and what the union hopes to accomplish through the strike. The Graduate Employees' Organization did not respond.
University of Michigan had previously filed an injunction to stop the strike. They alleged that the Graduate Employees' Organization decision to strike in the middle of the Winter 2023 semester would potentially jeopardize the grades of students in classes taught by graduate employees and constituted unfair labor practices, according to court documents.
The April 4 news release stated that the organization went on strike on March 29 after four months of negotiation meetings. Additional demands include changes in felony disclosure policies, transgender health care coverage, changes to curriculum and employee training, and increased salary for graduate employees.
The employees' own website acknowledges the strike is illegal.
"UM is a public university, and it is unlawful for public sector employees to strike in Michigan." according to FAQs on the GEO website. "In addition, our contract has a 'no-strike clause' specifying that we cannot strike."
"Striking would therefore be a breach of contract and the University could legally discipline or fire us. The question is whether the University would retaliate against workers and the union rather than pay us a living wage," the FAQs state.
"UM is highly unlikely to fire all of its GSIs and GSSAs because of how essential grad workers are to its day-to-day operations."
GEO's website cites salary as a major reason for the strike, alleging that since 2020 the gap between the cost of living and graduate employee wages has tripled.
MORE: UC Irvine blocked mass pro-union emails during strike: report
IMAGE: Michigan Graduate Employees' Organization
Like The College Fix on Facebook / Follow us on Twitter