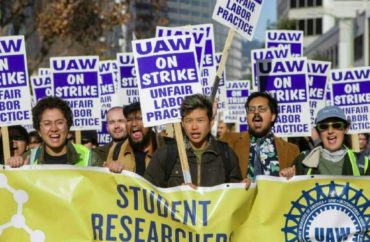 Accused of unevenly applying restrictions on 'political' speech
Officials at the University of California Irvine reportedly blocked emails in support of on-campus union efforts but allowed for other messaging that could be perceived as critical of former President Donald Trump.
Free speech group Foundation for Individual Rights and Expression wrote in a letter to the university that the school president used the mass email system after the election of Donald Trump in 2016 to send a message "expressing that diversity is central to the university system's mission and committing to foster an inclusive environment."
"Just weeks ago, Dean of Students Rameen Talesh sent a ZotMail message offering support for the university's 'queer and trans friends and family' after the shooting in Colorado Springs." FIRE wrote. "In 2020, UCI permitted the Associated Graduate Students to send a ZotMail message expressing support for Asian and Asian-American students after the outbreak of the COVID-19 pandemic."
Yet, university administrators denied two requests to send messages in support of the union efforts, citing "political" restrictions. The strike has since been settled, with some striking workers receiving a 66 percent raise moving forward
"UCI's student governments — Associated Graduate Students and Associated Students — both requested to send messages concerning the ongoing strike-through ZotMail," FIRE wrote in its report. "The Associated Graduate Students' message explained faculty members' rights during the ongoing strike, while the Associated Students' message expressed support for graduate students during the strike."
UC Irvine has not responded to a request for comment in the past week on the situation sent by The College Fix.
FIRE criticized the public university for not staying neutral regarding the use of the campus-wide "ZotMail" system.
"In selectively enforcing its electronic communications policy to prevent speech about the graduate student strike, UCI has engaged in unconstitutional viewpoint discrimination and imposes a prior restraint on speech," Sabrina Conza, a program officer at FIRE, said in an email to The Fix.
"This is unconstitutional at a public school bound by the First Amendment," Conza told The Fix. "UCI must amend its policies and allow students to express themselves using ZotMail, regardless of whether the views expressed are shared by the university."
"We continue to urge UCI to amend its ZotMail policies to remove any viewpoint discrimination or prior review, and we're hopeful that UCI will make that change," Conza wrote in a subsequent email to The Fix last week.
She said the group has sent a second letter to UCI asking for a response.
MORE: UC system may cut grad student positions to pay for massive raise
IMAGE: UCStudentWorkersUnionUAW2865/Twitter
Like The College Fix on Facebook / Follow us on Twitter