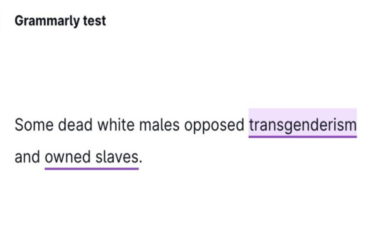 Software steers writers toward progressive wording as it scans for typos
Grammarly, an online proofreading tool with 30 million daily users, censors ideas disfavored by progressives by nudging writers toward politically correct language.
The application "can quickly flag problematic terms in your writing, bringing it into compliance with rapidly shifting progressive sensibilities," National Review reported Monday.
For example, "the term 'master bedroom,' which has no connection to slavery, must be changed because it's racially insensitive; 'real father' is supposedly biased against diverse 'parenting styles and family systems'; 'old people' is ageist and should be swapped with 'older adults'; 'hearing-impaired' could put off the 'hard of hearing,'" the news outlet reported.
"Meanwhile, a run-of-the-mill left-wing op-ed blasting 'white guys,' or an essay by The New York Times's Charles Blow accusing Latinos of 'white supremacy' will not trip up Grammarly censors," National Review continued.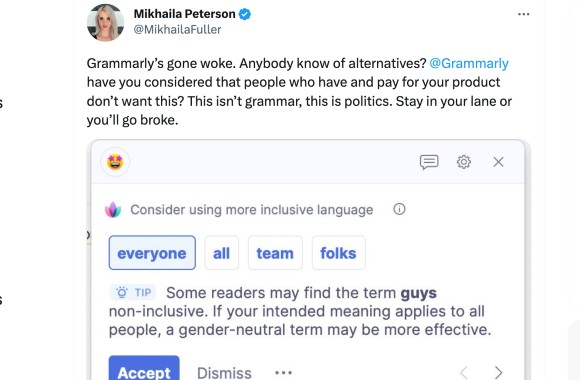 Grammarly gained traction since its 2009 founding for scanning language users post to its software for typos and other writing errors. The company says many of its users are college students.
Its software has evolved with the help of artificial intelligence to form and generate "inclusive" language with a political bias, according to National Review.
"As part of its premium package, Grammarly offers twelve customizable 'inclusive language' settings that aim to root out bias against the disabled, racial minorities, and LGBT people," National Review reported. "The application even has a special setting specifically designed for flagging 'alternatives to terms with origins in the institution of slavery.'"
The very terms "transgenderism," "slave," or "slave owner" are flagged by the software.
Even more, Grammarly's software inverts writing ideas it considers politically incorrect.
When asked for headline suggestions on the "intolerance of transgender activists," for example, the app "turns the premise on its head," NR reported.
Its suggested headlines included "'Celebrating the Bravery of Transgender Activists Fighting for Equality,' 'Breaking the Binary: Challenging Assumptions About Gender and Sexuality,' and 'The Intersectionality of Transgender Rights and Social Justice Movements,'" according to the news outlet.
When users accept Grammarly's suggestions, its AI grants them points and a higher writing score.
MORE: Universities pushed 'Latinx' – but Latino people rejected it
IMAGE: Twitter/@MikhailaFuller
Like The College Fix on Facebook / Follow us on Twitter