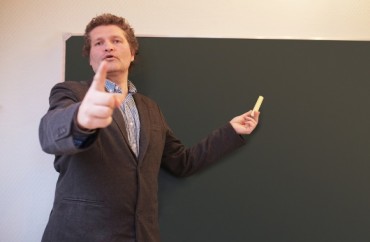 Many professors try to tell students what to think and give them only one side of the story inside the classroom. But then there's scholars who go above and beyond in their attempts to indoctrinate students.
Young America's Foundation has pulled together a list of examples, calling it "The Dirty Dozen: America's Most Bizarre and Politically Correct College Courses of 2016-2017."
"The sad truth is that many of America's greatest minds are spending four formative years and tens of thousands of dollars sitting in classes such as 'Ecofeminism,' and 'Queering God,' which clearly do little to equip them to face the real and complex problems our country desperately needs them to solve," the foundation stated in releasing its list.
The list of classes named by YAF as the most egregious this year are:
1. Diversity and Design, University of Arkansas
2. Black Hair Politics, University of Florida
3. Gender and Food Politics, University of Florida
4. Ecofeminism, University of South Carolina
5. Transgender Cultural Production, Yale University
6. Hand to Mouth: Writing, Eating, and the Construction of Gender, Dartmouth University
7. Racial Capitalism, Williams College
8. Queering God: Feminist and Queer Theology, Swarthmore College
9. Environmental Justice, University of Missouri
10. White People, Middlebury College
11. Transgender Latina Immigration: Politics of Belonging and Labor in the United States, Bowdoin College
12. Saints and Sexuality, University of Mississippi
The course descriptions are listed in full on YAF's website.
The list is part of a larger survey conducted by the foundation that chronicles questionable courses offered by the nation's top schools.
Called the Comedy & Tragedy survey, it uses class course descriptions to illustrate "the increasingly radical world of academia."
A recurring theme identified through the survey is "collectivism."
"Our colleges and universities are obsessed with relating every imaginable academic topic to the broad categories of sex, race, class, and gender. Rather than focusing on they study of humans as capable individuals, academics go out of their way to corral people into specific categories based on identity," the report states.
What's more, "many of the courses listed in this study are just plain wastes of time," it adds.
"Harvard teaches 'Friends with Benefits?' and 'Queering Affect.' In this same trend, Swarthmore offers both 'Queering God' and 'Queering the Bible.' Yale offers 'Bodies and Pleasures, Sex and Genders' as well as 'Transgender Cultural Production.' Students aren't only spending their time in hilariously weird courses—they're sitting through hours of courses that tactlessly group members of our society into collective entities, stripping them of their individuality and blaming conservatism for their ills."
Like The College Fix on Facebook / Follow us on Twitter