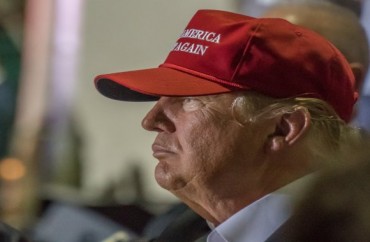 School 'has yet to condemn this student or punish him'
A male student at Minnesota's Gustavus Adolphus College allegedly "attempted to charge" at a female student wearing a Donald Trump "Make America Great Again" hat, after "shouting slurs and waving his coat menacingly in an effort to scare her," Campus Reform reports.
But the school isn't worried, stressing the incident – which would appear to be a misdemeanor under state law – was only "verbal."
The Minnesota Federation of College Republicans said the woman, who has not identified herself out of fear of being attacked again, was walking on campus before Monday night's first presidential debate:
College campuses are meant to be places of freedom of speech and diverse opinions without fearing for one's physical safety. …

We expect that Gustavus Adolphus College will come to a resolution on this issue to combat violence on campus towards students with differing opinions. Nobody, regardless of race, gender or political party, should feel unsafe because of the way they look or what they wear when they walk on campus.
The group noted that it used the word "assault" because the alleged attack on the woman fits the definition in Minnesota Statute 609.224, Subdivision 1: "commits an act with intent to cause fear in another of immediate bodily harm or death."
The Minnesota CRs filed an assault report with college security, according to Campus Reform.
Minnesota CRs Chairman Amanda Peterson wrote in Independent Journal Review that the college administration "has yet to condemn this student or punish him—although if [the woman] had gone to St. Peter Police, they could charge him with a crime":
Openly supporting any political candidate on campus does not mean that student is inviting harm upon themselves. And in the age of micro-aggressions—when looking at a person is "triggering" and "violence" again them—failing to condemn this clear case of assault against a student is downright ridiculous.
Campus Reform says the college administration met Tuesday to discuss the incident and was scheduled to speak to the woman in the Trump hat Wednesday, but it "stressed that the confrontation was purely verbal, not physical."
Read the Campus Reform story, Minnesota CRs statement and chairman's op-ed.
IMAGE: Windover Way Photography/Shutterstock
Like The College Fix on Facebook / Follow us on Twitter