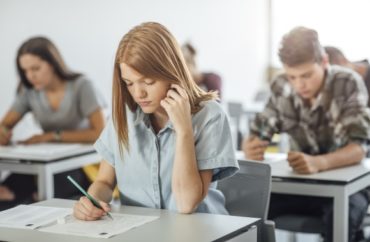 'Students simply have no idea how to disagree constructively, or even if constructive disagreement is possible'
A little more than half of college students fear giving their opinion on social and political issues in the classroom, according to a new survey by Intelligent.com.
The survey found that the self-censorship sentiment was not only expressed by students on the right, but also on the left.
The online poll, conducted in August and recently released, surveyed 500 conservative students, 500 liberal students and 500 moderate students.
Overall, 52 percent of all college students responded that they "always" or "often" refrain from expressing views on political and social issues in classrooms out of concern for potential consequences, Intelligent.com reports.
The results found that conservative students (55 percent) are only slightly more likely than moderate (52 percent) or liberal students (49 percent) to say they refrain from giving their opinions out of fear of consequences.
"Losing the respect of their classmates and professors, being ridiculed or confronted, and jeopardizing their grades are the consequences students fear most," Intelligent.com reports.
However, conservative students are slightly more likely than moderate or liberal students "to be willing to hear a lecture from a guest speaker, or take a class with a professor who has differing viewpoints."
James Patterson, associate professor of politics at Ava Maria University, told Intelligent.com that the results are not surprising.
Patterson, who has taught at both center-right and center-left institutions, said "I find that many students simply have no idea how to disagree constructively, or even if constructive disagreement is possible."
"Students seem to believe that disagreement is taking sides. Hence, they can only imagine that the potential consequences will be, at minimum, to alienate some of their fellow students," he said. "At worst, they might end up fodder for some kind of social media-driven ostracization."
Intelligent.com's survey results underscore polls commissioned by The College Fix in recent years. In 2020, a majority of Republican students reported that they expected to self-censor in class to avoid upsetting others.
MORE: Black law students demand classroom diversity monitors to report 'questionable conduct'
IMAGE: Stock Studio / Shutterstock
Like The College Fix on Facebook / Follow us on Twitter