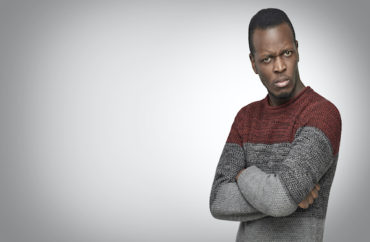 Black students 'have been bombarded their whole lives' with images like this
Forty-five black Harvard student groups have signed on to a letter demanding the university "take action to repair the manifestations of [its] inaction" regarding a "swatting" incident against four black students.
According to Harvard Police Chief Victor Clay, officers from the campus police department responded to what turned out to be a bogus 911 call from someone claiming to be a "kicked out" student who had taken a female hostage at Leverett House and "unsuccessfully attempted to kill her."
Police in "riot gear" showed up on April 3 at around four in the morning at the Leverett suite in question "wielding assault rifles" and ordered four black seniors out of their rooms.
Once the situation was deemed "cleared," Chief Clay (who is black) said police briefed the students on what had transpired.
Clay noted that the Harvard Police Department's actions "aligned with law enforcement protocols" and were "based on an assessment of the level of potential threat to members of our community with regards to a potential public safety situation."
One of the four affected students, Jarah Cotton, told The Crimson "We were all extremely scared, particularly because my roommates and I are Black students who have been bombarded our whole lives with stories and images portraying how situations such as this had ended up terribly."
MORE: Harvard closes campus police station because students are 'intimidated'
Letter signatory Ebony Joy Johnson, president of the Black Graduate Student Alliance, said the fact that the incident wasn't more widely acknowledged across Harvard did "not sit well with [her] soul."
The letter from the black student organizations, written in consultation with the swatting victims, goes much further — it rips Harvard's "failure to, at large, protect its Black community's emotional and physical wellbeing in the aftermath of such trauma," and demands university officials issue a statement "recognizing the 'significant racial impact' of the swatting."
It also notes the swatting victims were "forced" to seek out mental health support in lieu of the university being "proactive" in the matter.
Other demands from the groups:
— Harvard and the HUPD should "fulfill their obligation to deliver justice for the targeted students and conduct a thorough investigation that centers their humanity rather than institutional interests."
— Harvard should "improve transparency and promotes accountability in its campus policing and HUPD operations by granting access to police reports and regular updates on ongoing investigations to those directly involved."
— "implement[ion of] proactive mental health responses to incidents of racial trauma."
— Harvard must "hold an in-person, University-wide town hall for students to speak directly to leadership [about its] handling of issues of racial policing and HUPD protocol."
The letter states that if Harvard officials do not respond to the demands by tomorrow, the signatory groups will hold a protest during visits from newly admitted students.
MORE: Harvard prof's research: 'Defunding the police could cost thousands of black lives'
IMAGE: Damir Khabirov / Shutterstock.com
Like The College Fix on Facebook / Follow us on Twitter