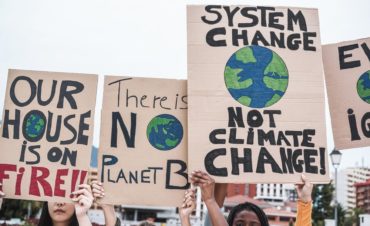 More professors, courses on climate change among demands
Harvard University should hire more climate change professors and push for a "collective understanding" of the "climate crisis," according to a recently released report from the Ivy League school.
The Committee on Climate Education released its 21-page report this month after working on it over the summer. The report "urges an all-hands-on-deck approach" to climate change, according to a university tweet.
"In this report, we lay out a strategic framework for the University that draws on and integrates perspectives from stakeholder reports and interviews we conducted," it stated.
"Harvard should create a climate education accelerator program charged with catalyzing institutional innovation, scaling expertise and impact, and developing partnerships with organizations outside of Harvard," the authors argue.
"The Future of Climate Education at Harvard University" wants a permanent committee on climate education as well.
A new report examining how Harvard teaches climate change urges an all-hands-on-deck approach https://t.co/gSJ8cEdewX

— Harvard University (@Harvard) September 15, 2022
"Harvard should hire more faculty, including faculty clusters, whose teaching commitments are related to climate change," the committee suggested. "Strategic hiring would augment existing programs and support new cross-school degree programs centered on climate change that will prepare students for emerging jobs and leadership roles."
"This means that the climate education tent must be large: no one area of discipline owns this space, rather contributions across the board are needed," the report stated.
Instead, existing degrees should integrate education on climate change, the committee suggested. Currently, "climate education at Harvard is largely siloed in individual programs."
The College Fix reached out to Harvard University and committee members Robert Stowe and Daniel Schrag. None responded.
"Harvard should be a world leader in climate education," the report concluded. "We have faculty, students, staff, and alumni whose interests and expertise cover the many challenges of combating and responding to climate change."
"We have expertise in pedagogy and new ways of learning that involve technology. We have creative engineers and artists alongside cultural and outdoor resources," the authors added. "Our potential for impact through education – which dramatically scales these resources – is not to be underestimated."
The authors warned about "addressing the complexity of climate change by incorporating it in shallow ways leading to students who end up engaging in superficial advocacy."
Instead, students should be encouraged to engage in "essential, but harder, intellectual and creative work of developing solutions to the complicated challenges, and assessing the difficult tradeoffs."
The report comes months after Harvard announced it will establish a new climate institute using a $200 million donation—called the Salata Institute. Its purpose is to facilitate mass projects involving the study of climate change and its effects.
The Salata Institute is projected to launch sometime this fall.
MORE: Trees cut down at UC Berkeley receive Sunday memorial service
IMAGE: Disobey Art/Shutterstock
Like The College Fix on Facebook / Follow us on Twitter