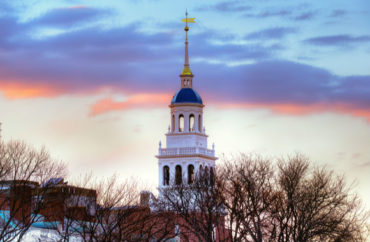 Shouldn't have to see him 'while we're eating Cheerios'
Few university leaders who served before World War II – and few after that – would satisfy the increasingly woke demands of today's student activists. So many white males, so many views that were mainstream for their time.
The latest victim of the historical purge at elite universities is the Harvard University president responsible for creating its house system.
Abbott Lowell's removal is particularly telling, because he never accomplished his proposal to cap Jewish admissions. In contrast, more recent Harvard administrations have successfully capped Asian-American admissions.
The Harvard Crimson reports that portraits of Lowell and his wife will be removed from the residence hall that bears his name when it reopens to students in the fall.
The portraits hung in Lowell House's dining hall before renovations started. When it opens, there will be no mention of President Lowell whatsoever – not even a plaque or a bust.
David Laibson and Nina Zipser, faculty deans of Lowell House – formerly known as "masters," another victim of Harvard's debilitating sensitivities – told residents Friday that students shouldn't have to see Abbott and Anna "in such a prominent space."
Abbott worked to integrate Harvard socioeconomically but his tenure was also marked by a proposed 15 percent quota on Jewish students, which he said was intended to reduce "race feeling" among non-Jewish students whose anti-Semitism was on the rise.
Harvard is still trying to reduce "race feeling" among the student body, but it uses the language of "holistic admission" to cap the percentage of students of Asian descent in the low 20s. Those students had the lowest admission rate from 1995-2013, even lower than Harvard's average admission rate.
Abbott also removed African-American students from living in Harvard Yard on a similar theory: that their relations with white students were not "mutually congenial" and would increase racism if the races lived together. The Crimson also noted he "led a purge of gay students" in 1920.
The faculty deans insisted they weren't trying to "hide our history" but made clear that there will be no visual reminders of the building's namesake. Instead they "plan to host discussions on the Lowell family's legacy" and will invite students to trek to University Hall to see another Lowell portrait, according to the Crimson.
They simply object to Lowell "hanging over us while we're eating Cheerios."
Lowell is being replaced by Harvard names that haven't been deemed problematic yet: Diana Eck and Dorothy Austin, outgoing faculty deans, and Florence Ladd, former administrator at Harvard's pre-integration sibling women's college Radcliffe. Other members of the Lowell family – just not Abbott and Anna – will get their portraits reinstalled in the dining hall.
Lowell House resident Richard Yarrow told the Crimson he opposed the total removal of the former president, suggesting that "portraits or busts" be placed in "less central house locations, along with plaques explaining his legacy."
That way students can be reminded of "Harvard's history of exclusion and the need for the University to serve underrepresented groups."
MORE: Asian Americans had lowest admit rate at Harvard through 2013
IMAGE: Jorge Salcedo/Shutterstock
Like The College Fix on Facebook / Follow us on Twitter