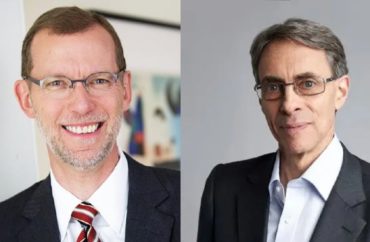 Reversed course after facing pressure from campus community
The dean of Harvard University's Kennedy School of Government reversed course and offered an appointment to an applicant for a fellowship who faced accusations of bias against Israel.
Dean Douglas Elmendorf wrote on January 19 that he "made an error" when he vetoed the appointment of Kenneth Roth as a Carr Center for Human Rights fellow. Roth has since taken a position at the University of Pennsylvania.
Roth is the former director of Human Rights Watch. He faced criticism for his views on Israel.
NGO Monitor wrote in a fact sheet that Roth "transformed HRW into a platform for targeting Israel" and  his team "lobbied for boycotts of, divestment from, and sanctions against Israeli institutions and businesses and companies doing business in Israel …for two decades."
Roth (pictured, right) also levied "false allegations" against the Israeli military by accusing its members of "abusing Palestinian children," the nonprofit group alleged.
The College Fix asked the dean's office prior to the reversal if any appointments to the Kennedy School had been blocked before and for more information on the initial decision. It did not respond to that email nor a follow-up question on if Roth would accept the fellowship.
The Fix attempted to reach Roth through the University of Pennsylvania and asked if he would take the fellowship and if he could share more information on the denial. He has not responded to an inquiry sent in the past week.
Dean Elmendorf (pictured, left) wrote in his email to Kennedy School members that his decision to originally veto the appointment was "not influenced by donors" but "based on my evaluation of his potential contributions to the School."
Harvard affiliates, led by the Palestinian Alumni Collective at HKS, demanded the resignation of Elmendorf in an open letter addressed to current president Lawrence Bacow, President-elect Claudine Gay and the dean himself.
MORE: Harvard alumni form group to fight for campus free speech
In the statement, the alumni group wrote that the blocking of Roth's fellowship "is profoundly wrong and demonstrates [Elmendorf's] hostility to academic freedom and honest human rights discourse."
This letter was "signed by 360 affiliates and co-sponsored by 19 student organizations," according to The Harvard Crimson.
While it thanked the dean for reversing course, the Palestinian alumni group still wants him to resign.
"We continue to seek Dean Elmendorf's resignation," the group wrote Jan. 19. "His values, implied by his original decision to withdraw Roth's fellowship, are inconsistent with those of the community he is meant to represent."
"Students, faculty and alumni from all backgrounds deserve leadership that acts thoughtfully and with care to preserve our shared principles," the group wrote. "Dean Elmendorf is not that leader."
The College Fix reached out to the Palestinian Alumni Collective twice via email in the past week to ask for comment on Roth's appointment. The group did not respond.
MORE: UMich Palestinian students protest Kamala Harris
IMAGES: University of Oxford; Human Rights Watch
Like The College Fix on Facebook / Follow us on Twitter