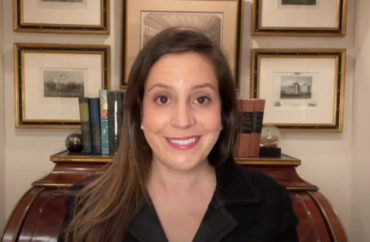 UPDATED
Claiming she had made public assertions about voter fraud in November's presidential election "that have no basis in evidence," Harvard Kennedy School Dean Douglas Elmendorf today announced Rep. Elise Stefanik would be removed from a school political science advisory board.
"Moreover, these assertions and statements do not reflect policy disagreements but bear on the foundations of the electoral process through which this country's leaders are chosen," Elmendorf said in a letter released Tuesday.
"In my conversation with Elise, she declined to step aside, and I told her that I would therefore remove her from the Institute of Politics' Senior Advisory Committee at this time," Elmendorf wrote.
A week ago, Stefanik, a Harvard graduate herself, noted she would be objecting to certification of the electoral college in Congress on Wednesday. That same day, the Capitol was overtaken by rioters attempting to have the results of the election overturned and President Donald Trump declared the winner. The attack on the Capitol left five people dead, including a police officer. Numerous other officers were injured.
After the Capitol was cleared, Stefanik was one of 147 House Republicans that voted against certifying President-elect Joe Biden's electoral victory.
"The decision by Harvard's administration to cower and cave to the woke Left will continue to erode diversity of thought, public discourse, and ultimately the student experience," Stefanik said in a statement on Tuesday.
"The Ivory Tower's march toward a monoculture of like-minded, intolerant liberal views illustrates the sneering disdain for everyday Americans and will instill a culture of fear for students who will understand that a conservative viewpoint will not be tolerated and will be silenced," Stefanik added.
🚨🚨My statement on @Harvard @harvardiop @Kennedy_School bowing to the woke Far-Left 🚨🚨 pic.twitter.com/DjvgdqAI1O

— Elise Stefanik (@EliseStefanik) January 12, 2021
After her vote against election certification, a petition was circulated calling for Stefanik to be removed from the Harvard board, claiming Stefanik's actions "undermined democracy and the Constitution" by "improperly challenging" the 2020 election results.
At the same time, Harvard Government professor Ryan D. Enos has urged the school to adopt "minimum standards" for affiliation with Harvard that "include supporting free elections and not encouraging violence."
"If we do not insist that those at Harvard do not try to overturn the free and fair votes of other citizens or that they would not encourage the violent overthrow of our own government, then we have no standards at all," Enos wrote in a letter to University President Lawrence S. Bacow.
Bacow has also received a letter from Kennedy School student Diego A. Garcia Blum urging the school to adopt "accountability guidelines" for welcoming officials who served in the Trump administration. The letter has been signed by over 300 individuals affiliated with Harvard.
After Stefanik's dismissal was announced, student leaders at the Institute for Politics praised the decision.
"I was reassured that the IOP would be upholding its founding ideals and those of the country," said Ryan Zhang, former chair of the IOP's Policy Program.
"This was primarily a question of integrity and of honor in our electoral system and a democracy," said Swathi Srinivasan, a former student chair of the Policy Program. "I think that that was the misstep — not that she supported any one candidate or any one party — but that she severely undermined our democracy along with the representatives and senators that did the same."
In an earlier statement, Stefanik said last Wednesday was a "tragic day for America" and that she "fully condemn[ed] the dangerous violence and destruction that occurred."
"The perpetrators of this un-American violence and destruction must be prosecuted to the fullest extent of the law," she said.
UPDATED: Includes reaction from Harvard students following Stefanik's dismissal.
MORE: Petition calls for removal of GOP representative from Harvard Institute of Politics
IMAGE: YouTube/Rep. Elise Stefanik
Like The College Fix on Facebook / Follow us on Twitter