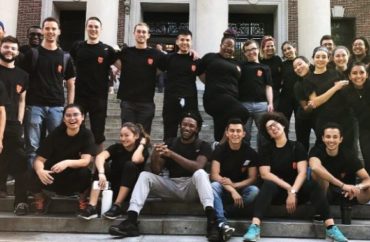 'I think there was a notion that Harvard students are above custodial work, which is not true,' one student said
Harvard University is ending a work program that paid students to clean toilets at a rate of $16.50 per hour after facing criticism from some members of academia.
But many students liked the opportunity to get paid to do work on campus and felt a sense of pride in their work.
The "Dorm Crew" has been in existence in some form at the Ivy League university since 1951. An excellent piece in The Harvard Crimson highlighted the views of the program of those actually in it versus those who observe it.
"Everyone in the room is down to stick their hand into a toilet for money. And that, I thought, was a nice filter for people that I would get along with," Paul Stanier, an alumnus, told the campus newspaper.
Fellow alumnus Jose Garcia found the leadership experience he gained leading a crew helpful while applying to business school. "Leadership roles have real consequences, and it's not to say that Dorm Crew didn't have real consequences, but it was a safe place to learn what leadership is," Garcia told the paper.
MORE: Consider a skilled trade career, public school system tells students
The dorm crew also operates an alumni network of advisors and mentors.
"I met there some of the most down-to-earth, genuine people I've known in my time at Harvard," another student told the paper.
Alumnus Benjamin Frimodig told the paper that he appreciated his time in the program and criticized those who wanted it to end.
"I never appreciated as a Dorm Crew employee being informed of my own oppression by people who had never done Dorm Crew and people who had never engaged in manual labor," Frimodig said. "I think there was a notion that Harvard students are above custodial work, which is not true."
But people who believed Harvard students were above this type of work won the argument.
A student who had never participated in the program called the experience "uncomfortable," referring to having to watch someone come into the dorm room to clean.
Academics also pushed back against the program.
"Low-income students at HARVARD working 20 hours a week in their first year of college cleaning [blasphemous expletive] dorms?" Temple Professor Sara Goldrick-Rab tweeted in 2019, sparking criticism.
"It's one thing to do a job right and to feel like it's normal," Goldrick-Rab said, speaking for the students. "It's a whole other thing to get up there and, like, really fiercely defend it."
As a result of Goldrick-Rab's criticism, and feedback from other professors like Harvard's Anthony Jack, the program will be redone and jobs will be cut, meaning fewer students will get paid to work.
For example, the Educational Support Services office at Harvard said it will hire Dorm Crew members – but it can only provide 45 jobs at 10 hours per week, versus the 150 members last employed in spring 2020 at 20 hours per week.
Elites don't like people making money, former Speaker of the House said
The decision to end the program fits in with a disdain for blue-collar work among many in the elite.
For example, I remember very well a 2012 GOP presidential primary debate moment where Newt Gingrich defended his idea to have low-income students work in the schools as janitors or in the library.

I remember that video because I would watch it and commentary from Bill Whittle on it before going to work many days at my job as a cashier and janitor over the summer before I graduated college.
I have no idea what Goldrick-Rab's background is, but the idea raised by Gingrich did not shock me, likely because at my own high school it was common to hire students to clean the building throughout the year.
School districts are currently trying to hire their own students to fill job openings for custodians or maintenance work, including ones in Indiana, Pennsylvania and Missouri.
"They'd be getting money, which is a good thing if you're poor," Gingrich said in response to the debate question. "Only the elites despise people making money."
MORE: Appreciate blue-collar work and trade schools, student says
IMAGE: Harvard Dorm Crew/Instagram
Like The College Fix on Facebook / Follow us on Twitter