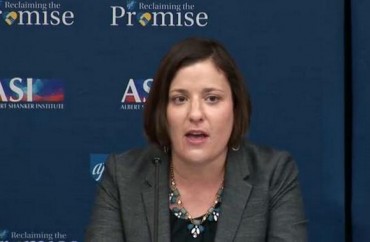 Sara Goldrick-Rab, who last year made something of a name for herself by tweeting that Wisconsin Gov. Scott Walker and Adolf Hitler share "terrifying" similarities, has moved to Temple University in Philadelphia.
A day after invoking Godwin's Law, the professor added "No doubt about it-Walker and many Wisconsin Legislators are fascists. Period. They proved it today. #SHAME."
Goldrick-Rab also faced allegations by the University of Wisconsin-Madison College Republicans that she trolled incoming freshmen about Gov. Walker and his proposed budget cuts.
"We don't want students 2 waste their $" and "I thought you want a degree of value," she tweeted out, among other things.
Philly.com notes that Temple knew all about Goldrick-Rab's social media controversy … but wanted her anyway.
Temple University gets outspoken education professor with national profile. https://t.co/jYnB4YeHTX pic.twitter.com/A1wryLoxPO

— Philly.com (@phillydotcom) March 10, 2016
From the article:
They also knew she was an outspoken supporter of making college more affordable, and that she wouldn't hesitate to call out her own institution if she thought it misstepped. In January, she was ranked the 13th most influential scholar in the nation by Education Week in terms of her effect on educational policy and practice.

With Temple president Neil Theobald's blessing, Goldrick-Rab will join the university's College of Education in July. She already has plans to start a college affordability center at Temple in 2018, once the center she started in Wisconsin winds down. And, she said, the center could even take on larger issues of homelessness and hunger.
RELATED: Univ. of Wisconsin professor says Hitler, Scott Walker share 'terrifying' similarities
Goldrick-Rab, who spent five years in Philadelphia when she attended the University of Pennsylvania, said she welcomes the chance to return to an urban setting, where she will be "closer to the students whose lives I study."

"I fell in love with that city when I was a grad student," she said, "and I've been trying to get back ever since."

"Looking objectively at her record," [Temple Dean of Education Greg Anderson] said, "it's really a no-brainer for any serious college or university to want to have faculty like her, based on her funding productivity, her scholarly and research activity, and her impact on public policy and the postsecondary arena."
That certainly may be; however, does anyone think that if a conservative professor had done what Goldrick-Rab did on social media that he/she would be so approvingly snapped up by a (new) college administration?
Like The College Fix on Facebook / Follow us on Twitter
RELATED: Wisc. prof who compared Scott Walker with Hitler faces shocking new allegations
RELATED: Professor who compared Scott Walker to Hitler is teaching a course on 'scholar activism'