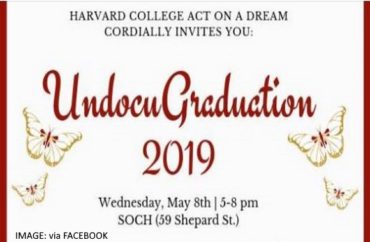 Hosted by group that wants the 'abolishment of ICE'
A pro-immigrant group at Harvard University recently hosted a graduation ceremony for students in the country illegally, an event meant to "highlight the struggles and the ways in which undocumented students persevere on this campus."
The May 8 ceremony was hosted by the student group Act on a Dream. That group touts itself as "a student-led, student-run organization at Harvard College focused on supporting and advocating for the immigrant community on campus and beyond."
The inaugural event featured "more than 50 students, faculty, staff, and administrators," including a history professor who was arrested several years ago while protesting the Trump administration's immigration policies, the Harvard Crimson campus newspaper reports.
Harvard's media relations office did not respond to queries from The College Fix asking about the event. The Fix sought to learn exactly how many graduating seniors attended the event, as well as how many of them were beneficiaries of the Deferred Action for Childhood Arrivals program, which offers a temporary stay of enforcement of immigration law for younger unauthorized immigrants.
On Facebook, Act on a Dream stated the event aimed to celebrate those who are "undocumented, from a mixed-status family, or otherwise connect[ed] with the larger immigrant community."
Emily Romero, a Crimson editorial editor and Act on a Dream co-director, said in an interview after the event it was held "to highlight the struggles and the ways in which undocumented students persevere on this campus."
In 2017, The Harvard Gazette interviewed four Harvard students in the country illegally, but the magazine did not shed light on how many other undocumented students, if any, attended Harvard at the time.
Harvard offers various services for illegal immigrant students. The school "makes no distinction based on citizenship in the financial aid process or in the amount of aid for which students are eligible," according to its website. In 2017, the president of the university affirmed that the school maintains a commitment to "defend [undocumented students'] ability to develop and share their talents in their home communities, in our country, and with the world."
Elsewhere, Harvard's website states that the school makes efforts to protect undocumented students from potential law enforcement.
"The University does not voluntarily share information on the immigration status of undocumented community members, and federal officials attempting to enforce immigration laws on campus are required to obtain a judicial warrant or other valid legal process requiring the University to provide access or assistance to federal agents," the Ivy League institution states.
It also gives students advice on building a "safety plan" if they are apprehended by immigration officials.
On Facebook, Act on a Dream called its special commencement a "night of love and celebration."
"We are so incredibly proud of our graduates and want to uplift their success in spite of the unique challenges caused by immigration," it posted.
The group is radically opposed to federal immigration authorities. In addition to professing its desire for the "abolishment of [Immigrations and Customs Enforcement]," the organization wrote in a Facebook post several months ago: "Fuck ICE and [Customs and Border Protection]! All these racist institutions have got to go."
MORE: Illegal immigrants shielded from out-of-state tuition hike
MORE: It is illegal for this student to be in the country. So how is he attending UC Berkeley?
IMAGE: Syda Productions / Shutterstock.com
Like The College Fix on Facebook / Follow us on Twitter