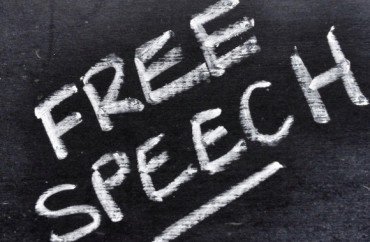 Last week, the activist group "Reclaim Harvard Law" got into a tit-for-tat free speech tussle with student Bill Barlow, who had the unmitigated gall to post flyers around the group's "safe space" — the occupied Caspersen Student Center, or "Belinda Hall" as Reclaim calls it.
Barlow's signs had castigated the group's views on free speech. Reclaim members confirmed his point by removing the flyers, sometimes transferring them to an "approved" area, and noted any signs "must be approved by Reclaim first."
Reclaim has now posted a message in response to this First Amendment scuffle, via the Harvard Law Record:
In the past few days, a person who has been outspokenly opposed to our fight for racial justice from the beginning has been putting up deliberately provocative posters in our space. After extensive debate, we determined that, while all are welcome to engage with us, and we have repeatedly invited this particular individual to do so, a model of an Office of Diversity and Inclusion would certainly put up posters and information about its mission and values, but would retain control over its own decorating policy to maintain a space that reflects its values. We do not believe that free speech is implicated here (we are a group choosing what to post in its own space, without any institutional, let alone governmental, support, and there are countless other – white – spaces on the campus in which this individual can express his views, and has).
RELATED: Harvard activists claim jurisdiction over building, tear down flyers critical of group
However, notably, the idea that we have prevented this particular white man from putting up offensive posters in this particular space has created attention and outrage that our own claims to suppressed speech and silencing have not. This is not the first time that supposedly neutral principles of free speech have been invoked to protect white privilege – our fight is to make it the last. We have been told that the way to fight speech is with more speech. It should be obvious to everyone that this is not a level playing field, but nevertheless we are taking this advice, and will expand our campaign to spread the voices of the marginalized and the silenced throughout Harvard Law School. We wish Harvard Law School would be on the side of the oppressed and the marginalized, but can hope for no more than that it will maintain its studied neutrality.
The claims about free speech not being a "level playing field" is straight from the critical race theory playbook, which Reclaim proudly touts on its website. In fact, Reclaim demands that Harvard Law acquire tenured critical race theorists "to ensure students get the educational tools [they] need."
Reclaim will have some work to do on convincing the general public about the virtues of CRT. After all, recall what Seventh Circuit Court of Appeals Judge Richard Posner said about CRT's adherents: They're "the lunatic core of radical legal egalitarianism."
Read the full Harvard Law Record piece.
RELATED: Fear the Future part 2: critical race theory and free speech limits based on feelings
RELATED: 'Reclaim Harvard Law' activists occupy thoroughfare that has been 'denied to minorities'
Like The College Fix on Facebook / Follow us on Twitter
IMAGE: Shutterstock