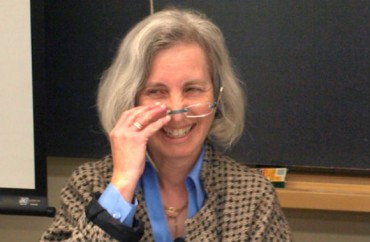 A bootlicker who got no credit from the tantrum-throwers that heckled her
Martha Minow has shown much skill in raising money for Harvard Law School during her eight years as dean, but no spine when it comes to dealing with the temper tantrums of law students.
She is stepping down at the end of the academic year, The National Law Journal reports, partly in order to "complete a book about law and alternative ways to resolve disputes."
Here's a short history of how she tried to resolve disputes:
Establishing a committee to revise the law school's controversial seal in response to a likely hate-crime hoax (which worked)

Doing nothing as race activists squatted and asserted jurisdiction over a building for more than a month, stifling the rights of other students in the process (their rationale: whites have their own spaces)

Marking the anniversary of the likely hoax without acknowledging how dubious it was (derided by a skeptic as "a staged remembrance of what may have been a staged event")

Retracting an entire on-the-record interview she gave to the Harvard Law Review, which the toady student-run publication obliged

Putting "microaggressions" in the same league as sexual assault in a speech at her alma mater

Stripping students of due-process rights to preempt a baseless funding threat from the feds
It's not clear that Minow's repeated bootlicking got her any credit with the law school's race hustlers.
Some of them crashed her speaking gig at Brandeis University and heckled her when Minow accepted an award for her "scholarship on race relations and legal issues." Even the liberal lion of Harvard Law, Barack Obama's mentor Laurence Tribe, scolded the activists for their petulant protest.
Ed Whelan of the Ethics and Public Policy Center has his own gripes about Minow's tenure, largely related to her gullibility about (if not coverup of) the likely hate-crime hoax. He calls her "an enabler of the occupation" of the hall.
A fan of Minow's predecessor, current Supreme Court Justice Elena Kagan, Whelan remarked this fall:
From what I hear, an oppressive political correctness pervades the school and stifles discussion, both inside and outside the classroom. The conservative students I spoke with saw little or nothing to celebrate.
Good riddance to Harvard law school dean Martha Minow. https://t.co/XNEyB981Yt https://t.co/JXq5t0o2Ee https://t.co/u90Jk7AddP

— Ed Whelan (@EdWhelanEPPC) January 3, 2017
National Law Journal says the law school had an endowment of nearly $1.9 billion as of last year, showing Minow's fundraising wizardry, and its minority population ticked up a few percentage points to nearly a third of students under her deanship.
Minow says she has no regrets, because the race hustlers are just "participating avidly and actively in the issues of the day." She also claims Harvard Law is "absolutely … vigilant in protecting anyone who faces charges" of sexual assault.