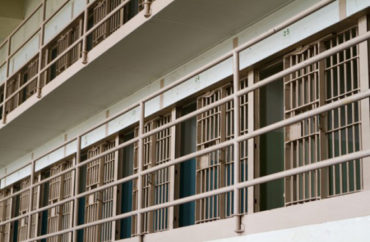 Approximately thirty Harvard Law School students held a protest on Tuesday to voice their support for prison strikers across the country.
The so-called Nationwide Prison Strike has been in effect since August 21 and is due to end September 9.
The event was organized by the Powerfully Utilizing Law School Educations for Political (PULSE) and Social Justice Committee, a subcommittee of the Harvard Black Law Students Association.
The Harvard Crimson reports attendees demanded reforms at federal and state prisons including prisoners getting paid for their labor, the possibility of parole for all prisoners, and "an immediate end to the racial overcharging, over-sentencing, and parole denials of Black and brown humans."
The activists gathered by "form[ing] a semicircle" around a memorial dedicated to the slaves owned by Isaac Royall Jr., Harvard Law's "original benefactor."
Organizers then opened up the space to those who wished to speak further about the issue, and wrapped up the event with a collective chant from Assata Shakur, a former member of the Black Liberation Army who wrote an autobiography after receiving political asylum in Cuba following her imprisonment for a murder conviction.

The chant reads: "It is our duty to fight for our freedom. It is our duty to win. We must love each other and support each other. We have nothing to lose but our chains."

The group read the chant three times with increasing volume.

Lauren Williams, president of BLSA, attended the event and shared a story of how her grandmother was a sharecropper and how it connects to the ongoing prison strike.

"She was a sharecropper and picked cotton and to see images and see that imagery and to understand the parallels that are existing today when we were told that we got rid of that, we were done, and to still see that connection—to me, there are really strong parallels," Williams said. "It almost feels like a new iteration of slavery in some ways."
Assata Shakur is also known as Joanne Chesimard, for whom the FBI is offering a $1 million reward:
On May 2, 1973, Chesimard, who was part of a revolutionary extremist organization known as the Black Liberation Army, and two accomplices were stopped for a motor vehicle violation on the New Jersey Turnpike by two troopers with the New Jersey State Police. At the time, Chesimard was wanted for her involvement in several felonies, including bank robbery. Chesimard and her accomplices opened fire on the troopers. One trooper was wounded and the other was shot and killed execution-style at point-blank range. Chesimard fled the scene, but was subsequently apprehended. One of her accomplices was killed in the shoot-out and the other was also apprehended and remains in jail.

In 1977, Chesimard was found guilty of first degree murder, assault and battery of a police officer, assault with a dangerous weapon, assault with intent to kill, illegal possession of a weapon, and armed robbery. She was sentenced to life in prison. On November 2, 1979, Chesimard escaped from prison and lived underground before being located in Cuba in 1984. She is thought to currently still be living in Cuba.
Read the full Crimson article.
MORE: Harvard Law grad: History of free speech 'racist' and 'oppressive'
MORE: Harvard Law professors worked closely with campus race protesters
IMAGE: sideonecincy/Flickr.com
Like The College Fix on Facebook / Follow us on Twitter