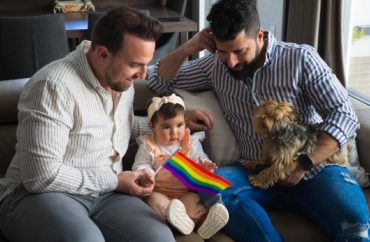 Course is directed by LGBT activist
Harvard Medical School students can learn about how to provide healthcare to "infants" who are LGBTQIA+, according to a course catalog description.
"Caring for Patients with Diverse Sexual Orientations, Gender Identities, and Sex Development," a regularly available med school course, promises to give students a chance to work with "patients [who] identify as lesbian, gay, bisexual, transgender, queer, intersex or asexual."
"Clinical exposure and education will focus on serving gender and sexual minority people across the lifespan, from infants to older adults," according to the course description.
Students in the course may also "engage in a mentored scholarly endeavor" such as "advocacy, quality improvement, medical education, original research, or public health project."
The College Fix asked Harvard Medical School via email what advocacy opportunities the course offers, how students are taught to treat patients with gender dysphoria, and if that includes counseling and how medical experts know if an infant is LGBT. The school did not respond to three inquiries sent in the past two weeks.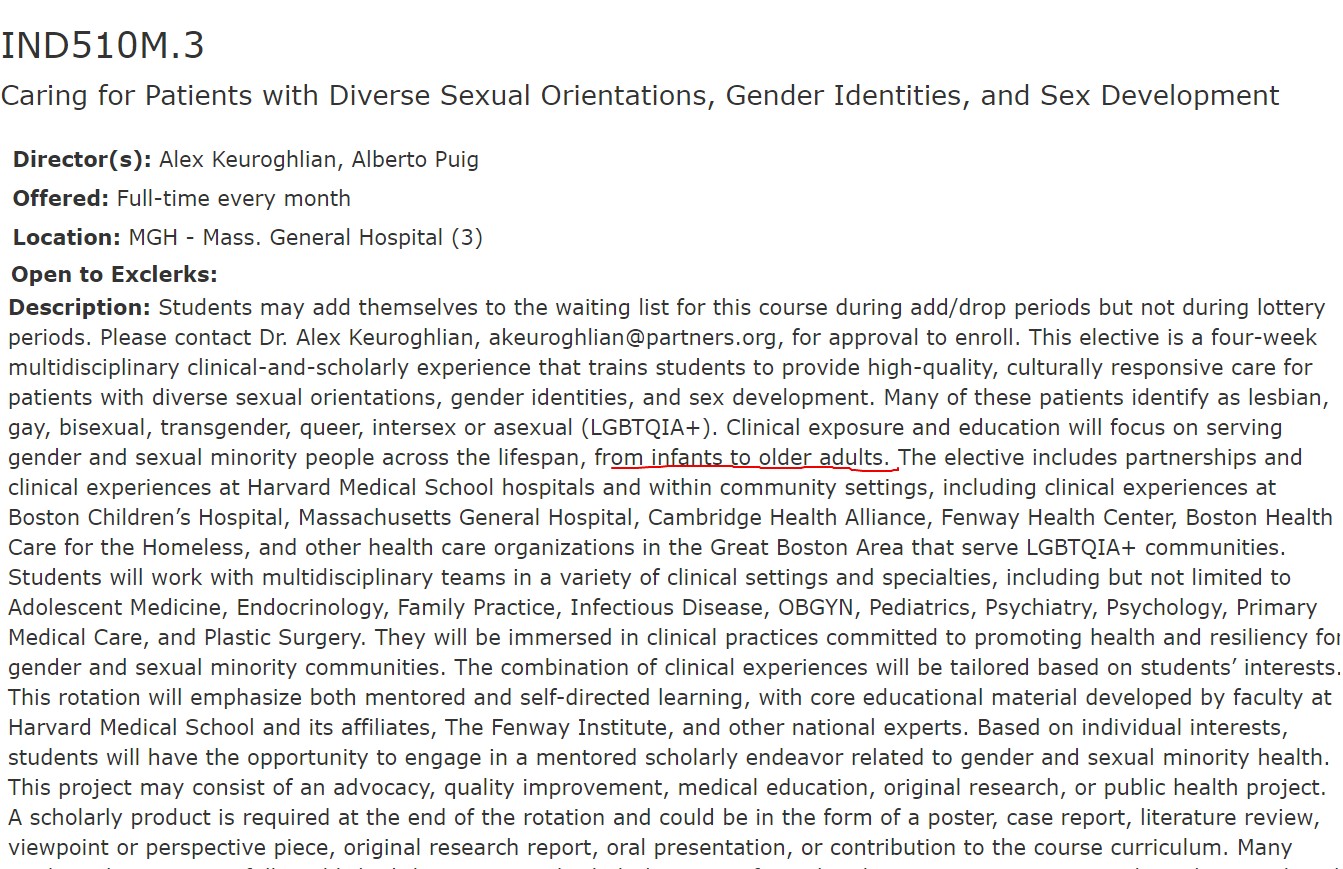 Massachusetts General Hospital, which is listed as the main meeting location for the 2022-23 academic year, provides various "gender-affirming surgical procedures" for ages 18 and up, along with "resources for transgender youth" that include referrals to LGBTQ support groups.
It also has a patient guide telling parents how to support their child's "transgender journey" by affirming an identity contrary to their biological sex.
The two directors of the course, Alex Keuroghlian and Alberto Puig, also work for the hospital. Keuroghlian is a psychiatrist and LGBT advocate at the Harvard-affiliated Fenway Health Center.
An outspoken supporter of removing healthy organs from individuals and injecting them with puberty blockers, Keuroghlian has authored research that connected transgender drugs and surgeries to better mental health outcomes for patients. He has also condemned government restrictions on the procedures.
These claims were challenged by an ethicist who researches transgenderism.
"Harvard medical students should be taught the basic scientific truth that a man cannot become a woman, or vice versa," Nathanael Blake, an ethicist at the Ethics and Public Policy Center, told The Fix via email. "Those experiencing psychological distress regarding their biological sex need to be treated with compassion, which does not mean subjecting them to dangerous chemical and surgical treatments to mold them into a facsimile of the opposite sex."
MORE: University of Washington knowingly kept quiet on flawed transgenderism study
Blake challenged the idea that the benefits of transitioning are past the point of scientific debate, especially regarding children.
"The research is plagued by a multitude of methodological problems, including small sample sizes, short timeframes, losing subjects during follow-up, and reliance on self-evaluation," he said. "This is why nations such as Sweden and Britain have recently pulled back on chemically and surgically transitioning children."
Another institution involved in the course is Boston Children's Hospital, which became the center of a national controversy in August due to videos of employees promoting "a full suite of surgical options for transgender teens," including vaginoplasties and hysterectomies. One video contained the claim that children can know they're transgender "from the womb."
A medical ethicist said students should be informed on the uncertainties surrounding transgender medicine.
"Medical school students should be taught that diagnoses of gender dysphoria in minors have been skyrocketing in recent years, and we do not know why," Colorado State University professor Moti Gorin told The Fix. "This rapid increase in diagnoses, in which the large majority of patients are girls (natal females), combined with the lack of long-term data on treatment outcomes, requires more research, with respect to both underlying cause and evidence-based solutions."
Gorin also emphasized the more cautious approach of other Western nations which "have concluded that the evidence of clinical benefit is not strong enough to justify these risky and sometimes irreversible treatments, aside from exceptional circumstances."
"This discrepancy in international guidelines" often used in the United States "is very unusual and ethically troubling," according to Gorin.
MORE: Transgender teen 'boldly' committed suicide, pediatrics professor says
IMAGE: Jose_Escudero/Shutterstock
Like The College Fix on Facebook / Follow us on Twitter