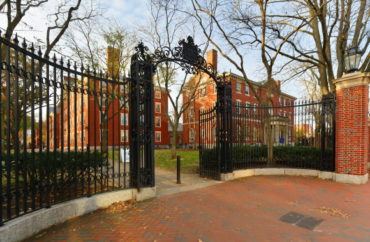 Harvard, Georgetown and University of Pennsylvania were recently ranked dead last among some of the worst universities for free speech — but the institutions refuse to comment on the matter.
Harvard's, Penn's and Georgetown's media relations division have not responded to requests for comment from The College Fix in recent weeks on if they think the ranking is fair and accurate and how they might address the criticisms or work to improve free speech on campus.
The three universities have also not acknowledged the rankings publicly on social media or news releases despite widespread media coverage, especially in the case of Harvard, whose ranking prompted nationwide headlines.
FIRE, in its report, noted that "Harvard University obtained the lowest score possible, 0.00, and is the only school with an 'Abysmal' speech climate rating."
"…Harvard's overall score of 0.00 is generous — its actual score is -10.69, more than six standard deviations below the average and more than two standard deviations below the second-to-last school in the rankings and its Ivy League counterpart, the University of Pennsylvania."
Harvard was ranked last from the Foundation for Individual Rights and Expression among 248 universities reviewed on whether their campuses foster an atmosphere of free speech. Penn was ranked second-to-last, and Georgetown came in fourth.
The other two schools that round out the bottom five worst colleges and universities for free speech are the University of South Carolina and Fordham University.
"Deplatforming attempts at the five lowest ranked colleges have an alarming 81% success rate," FIRE reported.
Sean Stevens, FIRE's director of polling and analytics, told The College Fix that Harvard and Penn should respond to the rankings and fix their campuses, but instead "are two of the worst offenders" when it comes to defending First Amendment rights during speech controversies.
The civil liberties group reported that the key factors differentiating the top five schools from the bottom five include that students from schools in the bottom five "were more biased toward allowing controversial liberal speakers on campus over conservative ones and were more accepting of students using disruptive and violent forms of protest to stop a campus speech."
The Foundation for Individual Rights and Expression releases its annual College Free Speech rankings in September. The latest iteration is its largest survey to be conducted to date, ranking 248 colleges and surveying more than 55,000 students across the nation.
The top five schools for free speech, according to the survey, are: Michigan Technological University, Auburn University, University of New Hampshire, Oregon State University, and Florida State University.
"[S]tudents at schools in the top 10 are more likely to think their administration supports free speech, that illiberal forms of protest (e.g., shout downs, violence) are never acceptable, and show less bias towards allowing controversial liberal speakers on campus over conservative ones," Stevens told The Fix via email.
The survey was fielded from January and June 30 through College Pulse, a digital polling company.
MORE: Bill would mandate free speech training on public college campuses nationwide
IMAGE: Jan Yuan / Shutterstock
Like The College Fix on Facebook / Follow us on Twitter