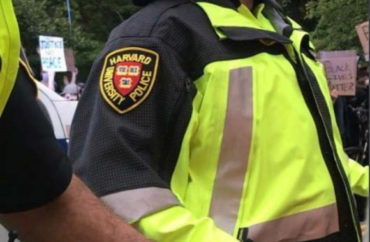 Black offenders made up the majority of those arrested by the Harvard University Police Department in 2022, according to newly released data from the department, which was recently accused of "racial policing" after four black students were victims of a swatting raid.
A June 17 article in the Harvard Crimson described the arrest rate as "disproportionate to the makeup of both Cambridge and Harvard's populations."
While 10.6 percent of Cambridge residents, 6.7 percent of Harvard students and 6.8 percent of faculty and staff are black, 56 percent of people arrested or served criminal complaints in 2022 were black, the student newspaper reported.
"The proportion — 23 out of 41 arrests in 2022 — marks the highest rate in at least three years as the department has continued to arrest Black people disproportionately," the Crimson reported.
When reached for comment by The College Fix, Manhattan Institute Senior Fellow Heather Mac Donald said there is no evidence the arrest statistics indicate discrimination on the part of campus police.
"Policing today is data driven; police go where crime is happening," Mac Donald, author of the book "The War on Cops" and advisory board member for The Fix, said in an email this week. "Given the racial disparities in criminal offending, the police cannot police in a colorblind, constitutional fashion without having a disparate impact on blacks."
"The idea that the Harvard PD, one of the most left-wing agencies in the country, regularly subjected to diversity training, would be arbitrarily singling out blacks for arrest is ludicrous," she said.
The release of the data comes in the wake of complaints against the Harvard police department by black student activists over an April incident in which officers investigated claims of an active shooter in one of the dorms.
Four black undergraduates "awoke to banging on their door and commands to 'open up' at approximately 4:15 a.m. … Officers wielding assault rifles and wearing riot gear identified themselves and entered the suite before ordering the students out of their rooms at gunpoint," the Crimson reported.
It was determined a hoax threat phoned in prompted the so-called swatting raid, but police have been accused of mishandling the incident.
An April 21 open letter from 45 black student organizations and their supporters stated black students "should not have to live in fear of the police force being used as a weapon against them."
The activists demanded, among other things, that Harvard hold a town hall for students to speak to campus leaders about "Harvard's handling of issues of racial policing and HUPD protocol."
The activists also demanded administrators improve transparency and promote accountability regarding campus police "by granting access to police reports and regular updates on ongoing investigations to those directly involved."
In the wake of the demands, Harvard police published their latest crime stats.
"The newly released version of the dashboard, which details HUPD's activities and interactions with the public, is its first update since June 2021 when it was originally launched," the Crimson reported June 17.
The Harvard Police Department did not immediately respond to a request from The College Fix seeking comment.
In September 2021, a Harvard Alliance Against Campus Cops spokesperson said the Ivy League school "spends millions of dollars a year on a police force that violently targets racialized people, as well as poor, unhoused, and other marginalized members of our community."
In November 2020, the group published a report titled "Harvard's Finest?: The Case for the Abolition of the Harvard University Police Department."
Victor Clay, chief of the Harvard University Police Department, argued campus cops have continued to be transparent about arrest statistics and do not engage in racial targeting.
"I'm proud to say we're one of the few people that we will put out our data, regardless of what it looks like," Clay, who is black, told the Crimson in May. "We're ready to show the community exactly what has occurred over this past span of time — and that's because they deserve to know."
Campus police departments have been the subject of criticism at other universities for racial disparities in arrest statistics.
In January 2023, Stanford University's police department was scrutinized after a white officer drew his weapon on a black suspect.
The officer was cleared in June after it was found that the suspect had an outstanding DUI arrest warrant and was refusing to comply with orders. However, the Stanford student newspaper has continued to attack the campus police department for its handling of the incident.
"There are biases in everything we do. It is disingenuous to claim that 'No bias-based policing was found,'" fifth-year PhD student Brian Cabral told the Stanford Daily in early June.
Despite this outcry, more universities are choosing to support campus police over the objections of far-left groups.
In April 2023, Portland State University rearmed its campus police after disarming them in 2021. This occurred in response to increasing crime in the surrounding area and dwindling support from city cops due to strained resources.
'These factors have necessitated a change in practice on the part of campus police officers: In order to protect our campus, our nine sworn officers are having to go on most patrols carrying arms," PSU President Stephen Percy said.
Also this spring, George Washington University in Washington D.C. decided to arm some campus police officers in light of recent high-profile shootings across the nation.
MORE: Students protest GWU's decision to arm campus police with handguns
IMAGE: HUPD report
Like The College Fix on Facebook / Follow us on Twitter