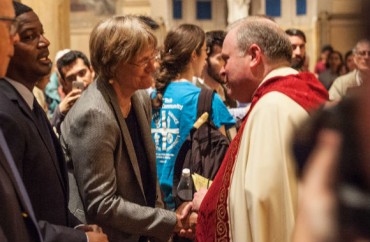 The overseers of the residential houses are no longer "masters," but that doesn't mean everything tinged with slavery at Harvard should be washed of its context.
That's according to Harvard President Drew Faust, a Civil War historian, who told The Harvard Crimson she was wary of changing the law school seal and the names of buildings simply because they bring up painful memories in the university's history:
"I feel quite strongly that we should not be trying to erase our history of names," Faust said. "I think we're all going to be facing these questions, and the case that I would make is…about the importance of sustaining our history, not erasing it," she later added.
Renaming buildings is a surefire way to whitewash history, and it smacks of arrogance, Faust says:
Increase Mather, the namesake of Mather House and an early Harvard president, owned slaves.

"I think if you erase the whole past, it's too easy to feel innocent. It's too easy to not learn from it and to think that you're not going to make any mistakes in the present—you're better than those mistakes. We're not better than those mistakes," she said. "Someone 200 years from now is going to wonder something about us—why we're eating meat, why we're doing things that we're doing. And we have to be self-critical enough not to just assume that we're so much better than people who had to make decisions under different circumstances and in different times."
Faust said she doesn't have a set position on the law school seal – which represents the slaveholding family that endowed Harvard's first law professorship – because "she wants to learn more about the specifics of the case," the Crimson said.
Like The College Fix on Facebook / Follow us on Twitter
IMAGE: Roman Catholic Archdiocese of Boston/Flickr