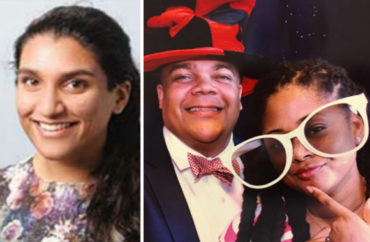 Did they film her without consent or did she harass their three-month-old?
The Harvard Crimson must be tired of covering news about its own activist staffer.
Design editor Danu Mudannayake has led protests against Harvard Faculty Dean Ronald Sullivan because the law professor is representing disgraced Hollywood producer Harvey Weinstein at his criminal trial on sexual assault charges.
The problem is that the British student of Sri Lankan origin created and distributed fliers (below) around Winthrop House, which Sullivan oversees, that depicted him as a caricature that some found racist. It was also during Black History Month.
Now Mudannayake, a resident of Eliot House, finds herself in another kerfuffle with black people in Winthrop House.
The Crimson reports that the resident tutors, Carl and Valencia Miller, are planning to file a Title IX complaint against Mudannayake for harassing them in the Winthrop dining hall last week.
It stems from a bizarre incident where Mudannayake, who was eating dinner with a friend, accused Carl Miller of taking photos and video of her without her permission. The Millers insist they were taking photos of their child.
The Millers' lawyer sent the Title IX letter to Dean of the College Rakesh Khurana and copied Harvard President Lawrence Bacow, Provost Alan Garber and Dean of the Faculty of Arts and Sciences Claudine Gay.
The parties already filed dueling reports with Harvard police against each other, as the Crimson previously reported. Unsurprisingly, the student newspaper didn't identify the race or ethnicity of either because neither is white.
MORE: Harvard opens first-ever investigation of faculty dean because he's black
The flyer created by Mudannayake. Prof. Roland Fryer has also been accused.
Carl Miller told the paper he filed a report with police because of Mudannayake's "obvious provocation, harassment and due to her threat against my three month old child."
Valencia Miller said Mudannayake "accosted" Carl and called the incident "the latest episode in an escalating pattern of harassment against my home and my husband that pierced my heart because it involved my child."
Muddanyake claimed in a Medium post Tuesday that in February, Carl Miller had followed her while she distributed the allegedly racist flyers around Winthrop, "despite the fact that I was well within my rights of free speech to distribute my fliers."
She seems to be paranoid about perceived allies of Sullivan, the Winthrop faculty dean:
Valencia Miller added that she has worked since January to foster a positive environment for Winthrop students amid campus discussions of Sullivan's decision to represent Weinstein.

"For the last few months, a small group of students have continued to escalate a controversy around our Faculty Dean's representation of Harvey Weinstein," Miller wrote. "I have worked to encourage students to discuss different points of view with civility, grace and understanding."
MORE: Harvard students trying to take down Sullivan accused of racism
We support Danu Mudannayake's right to free speech and commend her moral courage in speaking out against rape culture on campus in the face… https://t.co/7P1C14fEWl

— OurHarvard (@OurHarvard) April 9, 2019
White woman lectures black couple for acting 'totally unprofessionally'
Another Winthrop tutor and Harvard Law School student, Amber James, distributed a statement to other house tutor staff that said the "escalation of harassment is unacceptable, inappropriate and intolerable" and the tutors "call on the administration to respond to these repeated attacks on our House."
Eliot House leaders are taking Muddanyake's side. Gail O'Keefe, its faculty dean, sent an email to Eliot "affiliates" on Tuesday accusing the black couple of acting "totally unprofessionally and dishonestly" by filing a police report against Muddanyake.
"Here at Eliot we would never condone nor allow tutors to make a public attack on an undergraduate, let alone in such a blatant and clumsy political way," wrote O'Keefe, who along with her husband and fellow Eliot faculty dean is white (left).
Mudannayake's allies at Our Harvard Can Do Better, the Association of Black Harvard Women, and the Harvard Student Labor Action Movement also criticized the Millers for a "blatant attempt to intimidate student activists broadly and especially Mudannayake herself."
The statement, distributed across "several House-wide email lists," commended Mudannayake for her "moral courage in speaking out against rape culture on campus in the face of intimidation, harassment, and threats."
Read the Crimson articles.
MORE: Sullivan under fire for 'participating in a tradition older than the nation itself'
IMAGE: Danu Mudannayake/Medium
Like The College Fix on Facebook / Follow us on Twitter