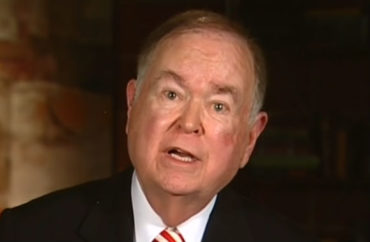 Regents meeting tomorrow to discuss 'personnel investigation'
At least David Boren will get due process, unlike his fraternity victims.
The 24-year former president of the University of Oklahoma, who unilaterally expelled fraternity members for their racist chants on a private bus, is under investigation for sexually harassing "male aides," according to The Oklahoman.
The university didn't say Boren was the target when it acknowledged hiring the Jones Day law firm to investigate "allegations of serious misconduct that it was legally obligated to investigate," but sources told the Oklahoman it was Boren.
His lawyer Bob Burke said the investigation was a "fishing expedition," not an "objective search for truth," and that Jones Day hadn't accepted their request to discuss the investigation. Boren, a former governor, "emphatically denies any inappropriate behavior or unlawful activity."
"I really think that it's somebody who hates David Boren within the OU administration that simply leaked this information without having a lot of information," Burke told News9.com.
The lawyer told The Oklahoma Daily student newspaper that he and Boren were "completely in the dark" about the specific allegations, and that many of Boren's former aides are "willing to vouch" for him: "I mean there's just so many aides … [sic] who would say without question that David Boren 100 percent of the time – in public and in private – acted appropriately."
Though Boren hopes to return to campus to teach this fall after health problems sidelined him, the investigation is definitely "affecting his health, because his feelings are hurt," Burke said.
KJRH reported that Jones Day had been paid $85,000 so far to investigate the allegations. The university regents are meeting privately tomorrow to discuss an undisclosed "personnel investigation," the Associated Press reports, citing a university news release. The release does not appear to be posted on the university's website.
MORE: OU wins "Muzzles" censorship award for fraternity expulsion
Boren's singular action to expel individual fraternity members and ban Sigma Alpha Epsilon was widely denounced by First Amendment experts. Erwin Chemerinsky, now the University of California-Berkeley's law school dean, said at the time the fraternity members "would have an excellent chance of succeeding" if they sued the university.
The president's rationale – that the fraternity had created a "hostile learning environment" by chanting privately on its own bus – simply does not wash with the known facts. The university also violated several provisions of its own student conduct code to get rid of the individual fraternity members quickly.
One constitutional law scholar praised Boren for his flagrantly unconstitutional action: President Barack Obama.
The incident earned the university the top spot on the Thomas Jefferson Center's Muzzles awards of 2016, which recognized the 50 most censorious schools in the country.
It was the forerunner to Syracuse University's indefinite suspension of fraternity pledges for privately performing satirical sketches.
Both instances of offensive behavior were recorded on video, leaked and went viral, prompting both universities to claim their communities had been harmed – meaning students must be punished for their private expression.
h/t Inside Higher Ed
MORE: Judge lets Syracuse ignore its own speech rules to punish students
IMAGE: CNN/YouTube
Like The College Fix on Facebook / Follow us on Twitter